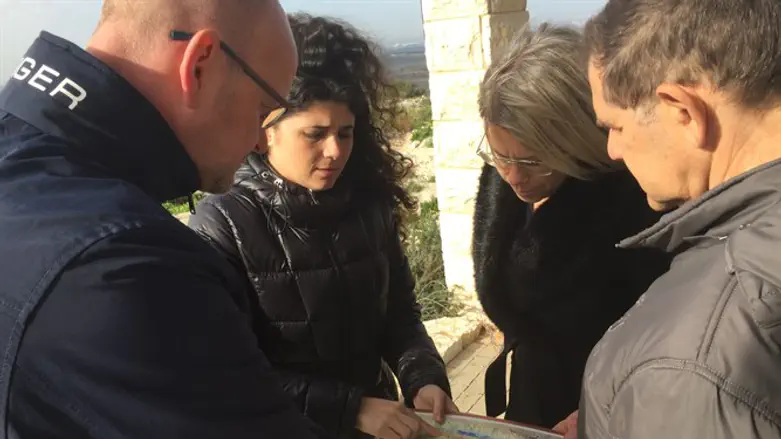 Sharren Haskel with the guests from Sweden
Sharren Haskel's spokesperson
MK Sharren Haskel (Likud) on Thursday toured Samaria together with Swedish parliamentarian Magnus Oscarsson and the mayor of the Swedish town of Ödeshög, Annikki Oscarsson, and presented them with the security and strategic challenges in the region.
The tour began in the community of Peduel, overlooking Jewish and Palestinian towns in the region. MK Haskel explained that "in terms of security and strategy, in a situation in which Palestinian communities are only a few kilometers away from an international airport without an Israeli military presence, there is a real threat to our security."
"The presence of the army in the area and the Jewish communities built at elevation points are the reasons why rockets are not fired from the direction of Judea and Samaria at towns in the center of the country. This is in contrast to Gaza, which is controlled by Hamas," she added.
The tour continued at the Ofer factory where cleaning cloths from recycled fabrics are manufactured and in which 130 Jews and Arabs work side by side. The three then visited the offices of the Samaria Regional Council, where they watched a presentation that reviewed the history of the Israeli-Palestinian conflict and presented demographic data.
At the end of the tour, they held a meeting with Samaria Regional Council head Yossi Dagan, who proposed signing a twin city agreement with Ödeshög in order to form a coalition that would fight the Palestinian lie together.
MP Oscarsson said following the visit, "I was very happy to be in this part of Israel and to see the country. I thank you all for the tour and for the important information I received, I will take the stories I heard back to Sweden."
"It was also very interesting to see Jews and Palestinians working together in a factory. It is important for me to know that the Palestinians have good jobs and live a good life in Samaria, despite what is being said in Sweden," he added.
Mayor Oscarsson said, "This is a new experience for us to see with our own eyes Jews and Palestinians working together in Samaria. This is not the picture that is painted in Sweden, it's a quiet, peaceful and nice picture, and it's very important to really see the truth."
MK Haskel added that "the only way to fight lies and propaganda against Israel is to expose the truth and the facts by holding tours on the ground for delegations, representatives and members of parliament from around the world. In this way, they will be able to see with their own eyes the reality in Judea and Samaria and refute the lies that are being told about Israel in the world."
Dagan noted, "We truly appreciate the visit, and it is very important since Judea and Samaria's biggest enemy is ignorance. Most of the politicians and the media in Sweden and throughout Europe do not know the truth in the field and I would be happy to fight this ignorance together with our friends from Sweden."