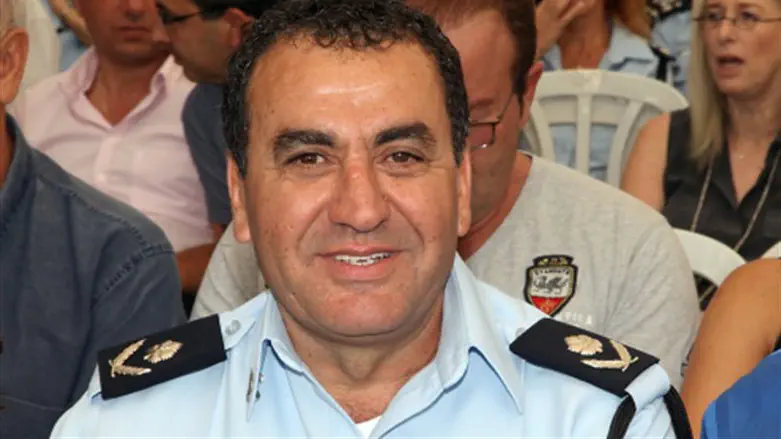 Menashe Arviv
Flash 90
Former police Major General Menashe Arbiv was convicted on Thursday for failing to uphold his duties as a police officer as part of a plea bargain he signed relating to allegations that he received improper benefits from Rabbi Yoshiyahu Pinto.
Arbiv, a senior officer who commanded the Lahav 433 anti-corruption police unit, agreed to the plea bargain in order to avoid the more serious charges of bribery and corruption. Arbiv was suspected of receiving illicit benefits for years from Rabbi Yoshiahu Pinto in exchange for information about a police investigation into Pinto's charity.
According to the indictment, associates of Pinto helped Arbiv's wife and son obtain visas to the US, gave Arbiv a monthly allowance of $2,000 and reportedly arranged for the investigator to receive a NIS 700,000 discount on his Tel Aviv apartment.
Arbiv also stayed at Pinto's New York City apartment during a vacation to the US and did not report his connection with Pinto to the authorities, even after the police unit which he commanded, Lahav 433, opened up an official investigation into irregularities at Pinto's charity. In addition, Arbiv continued to meet with Pinto even after the rabbi offered him a $60,000 bribe.
Pinto was a popular and charismatic rabbi in Israel who counted some of Israel's most powerful politicians and members of the business community as his close friends. However, he served a one-year jail sentence in 2017 for his effort to bribe police Brigadier General Ephraim Bracha. After Bracha reported the bribery attempt, Pinto spread rumors that Bracha was corrupt, eventually leading to Bracha's suicide.
Arbiv's attorney's said in response to the verdict that that "for three years, an investigation has been ongoing at the Police Investigation Unit against Maj. Gen. (res.) Menashe Arbiv over suspicions of bribery. To that end, the State Attorney's Office signed an outrageous state witness agreement with Rabbi Pinto to try and establish the suspicions against Arbiv."
"It's important to emphasize that there was no alliance of interests between Arbiv and Rabbi Pinto, as described in the indictment."
.