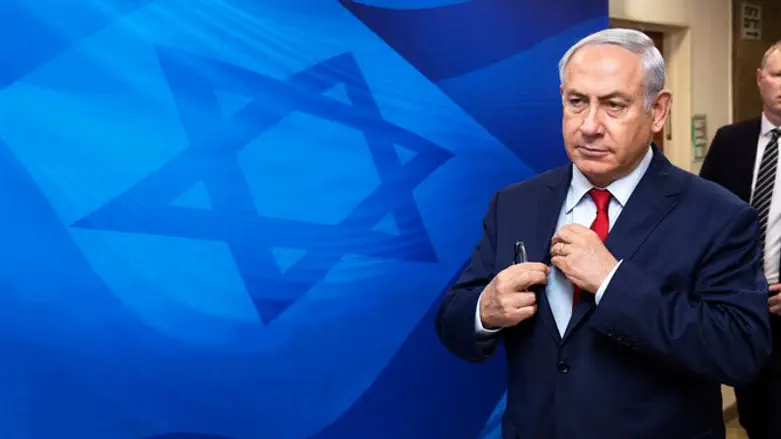 PM Binyamin Netanyahu
Reuters
A new poll carried out by Geocartography showed that if elections were held today, the leading Likud party would receive 34 Knesset seats.
These results represent the Likud's highest number since elections were held in 2015, Israel Hayom noted.
The poll, conducted at the Likud's request, showed that Yair Lapid's "Yesh Atid" party would receive 20 Knesset seats instead of its current 11, and the Jewish Home party would jump from its current 8 seats to 14 seats.
Meanwhile, the Zionist Union would receive 12 seats, representing half its current number.
The poll showed the Yisrael Beytenu party as remaining stable at 6 seats, Finance Minister Moshe Kahlon's "Kulanu" party as dropping from ten to seven seats, and the Ashkenazic-haredi UTJ party as rising from 6 seats to 9 seats. Meretz would rise from 5 Knesset seats to 6, while the Joint Arab List would drop from 13 seats to 12.
The poll also showed that the Sephardic-haredi Shas party, led by Interior Minister Aryeh Deri, would not pass the electoral threshold.
Israeli Prime Minister Binyamin Netanyanu responded to the poll on Wednesday morning, saying, "The more they afflicted them, the more they multiplied and grew." (Exodus 1:12)
Earlier this month, investigators announced that they had collected sufficient evidence to charge Netanyahu with taking bribes and breach of trust over his alleged receipt of some one million shekels ($283,000) in gifts from wealthy supporters and charges of collusion with a newspaper publisher to grant political favors in exchange for more sympathetic coverage.
Last week, a poll found that Likud would win 28 seats, with Yesh Atid coming in a close second at 22 seats. The right-wing and religious bloc, which currently holds 66 Knesset seats, was projected as maintaining 65 of those seats.
A similar poll conducted two days prior showed Likud as receiving 26 seats, and Yesh Atid as receiving 22, while a poll conducted in January gave Likud 31 seats and Yesh Atid 26.