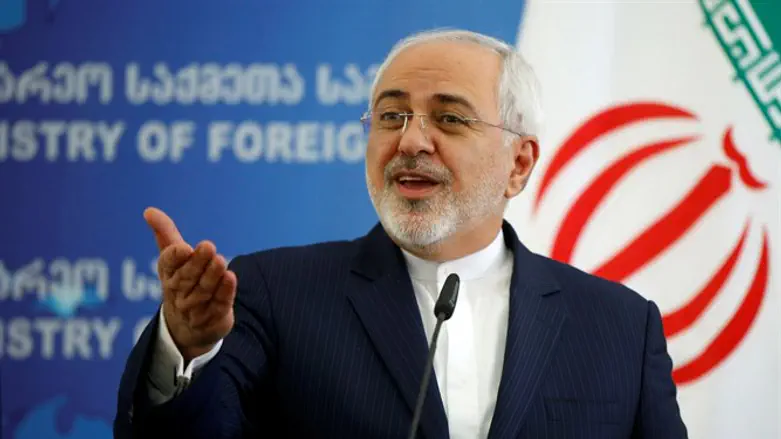 Mohammad Javad Zarif
Reuters
Iran's Foreign Minister Mohammad Javad Zarif on Sunday threatened that if Israel attacked his country, it will "see the response".
Zarif also told NBC News in an interview that last week's shooting down of an Israeli fighter jet by Syria had destroyed the "myth of invincibility" that surrounded Israel's military for decades.
After "30 years the Syrians were able to down one of its planes," the Iranian foreign minister told NBC News in an exclusive interview on the sidelines of the Munich Security Conference.
"And so the myth of invincibility of Israel, of the Israeli military, has crumbled," he claimed.
Syria "was able to use its own means to bring down one of their planes. The answer is: Don't violate their airspace," added Zarif.
The interview with Zarif was held after Prime Minister Binyamin Netanyahu said at the Munich Security Conference that Israel would act against Iran and reiterating his country's position that Tehran was the world's greatest threat.
"Well, if they try to exercise that threat, they will see the response."
In his remarks, Netanyahu held up what he said was a piece of an Iranian drone shot down by Israel last week. Zarif, who was in the audience as Netanyahu spoke, later slammed Netanyahu in his own speech at the Munich conference.
In his NBC News interview, Zarif also reiterated that his country would not renounce the 2015 nuclear deal it signed with six world powers, including the United States, even if the U.S. does.
"I believe President Trump has tried to walk away from that deal from Day 1 of his presidency, and he has done everything in bad faith to prevent Iran from enjoying the deal already," he said.
U.S. President Donald Trump, who has repeatedly criticized the Iran deal negotiated by his predecessor Barack Obama, recently decided to extend a waiver on nuclear sanctions that were imposed on Iran.
However, he said it would be the last time he will do so and ordered European allies and Congress to work with him to fix "the disastrous flaws" in the 2015 deal or Washington would withdraw.