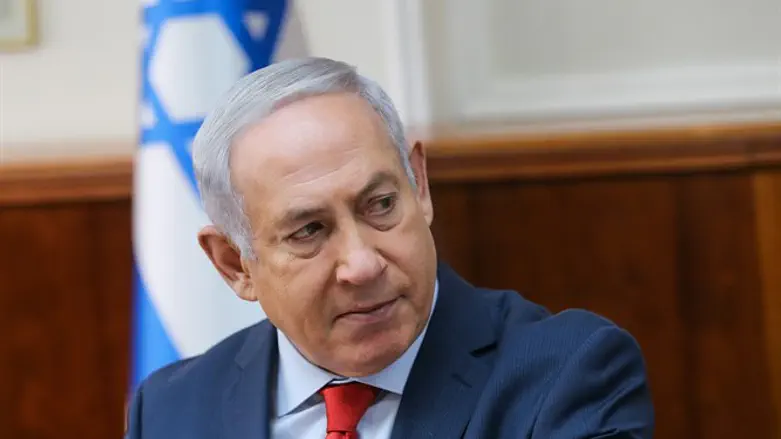 Netanyahu
Alex Kolomovski
Prime Minister Netanyahu held a phone conversation with Polish Prime Minister Mateusz Morawiecki in the wake of inflammatory comments the Polish leader made over the weekend blaming Jews for the Holocaust.
Netanyahu told Israeli journalists at the Munich security conference that he "told him there's no basis for this comparison, between the act of Poles and the acts of Jews during the Holocaust". Netanyahu said that he pointed out that "the goal of the Holocaust was to destroy the Jewish people and that all Jews were under sentence of death".
Netanyahu also reiterated to his Polish counterpart that "the distortion regarding Poland could not be corrected by means of another distortion". The two agreed that the countries would continue their dialogue on the matter.
On Saturday, Morawiecki caused outrage in Israel when he claimed there were "Jewish perpetrators" during the Holocaust, after being questioned by an Israeli journalist who told of his mother's narrow escape from the Gestapo in Poland.
The journalist, Ronen Bergman, asked if by recounting this, "I am a criminal in your country?" garnering a round of applause from the audience.
Morawiecki responded: "It's not going to be punishable, not going to be seen as criminal, to say that there were Polish perpetrators, as there were Jewish perpetrators, as there were Russian perpetrators, as there were Ukraine and German perpetrators."
He reiterated that the point of the law was to defend Poland's honor by making it clear that people knew "there were no Polish death camps... There were German Nazi death camps."
"But we cannot agree with mixing perpetrators with victims, because it would be first of all an offense to all the Jews and all the Poles who suffered greatly during the Second World War."
His remarks, coming on the heels of a controversial new law banning criminalizing the mention of Polish complicity in the Holocaust, caused outrage in Israel and several MKs called on the Israeli government to recall Israel's Ambassador to Poland Anna Azari.
Deputy Foreign Minister Tzipi Hotovely also announced that she will hold an urgent discussion at the Foreign Ministry following Morawiecki's statements.
"The words of the Polish prime minister are serious and require an apology to the Jewish people for distorting the memory of the Holocaust. We cannot accept such outrageous comparisons. In light of the continuing crisis in this matter with the Polish government, I intend to convene an urgent meeting with the relevant parties at the Foreign Ministry," Hotovely said.