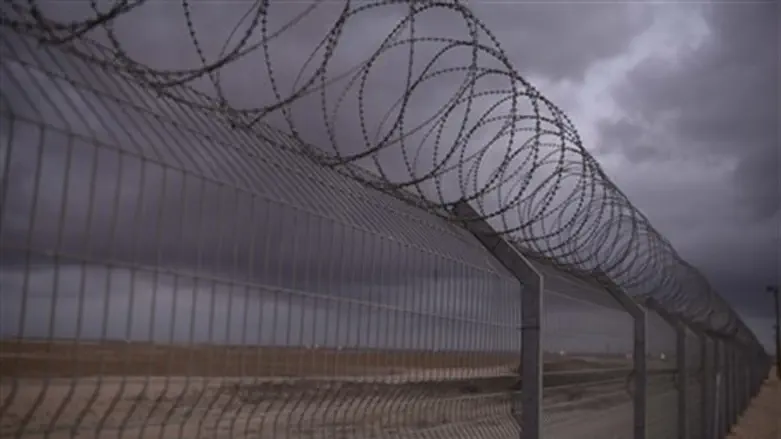 Gaza border fence
Tomer Neuberg/Flash 90
After a preliminary investigation, the IDF now thinks that two explosives were detonated on Saturday on the Gaza border, and not one as what was previously thought.
On Saturday, a hidden roadside bomb was detonated near soldiers from the Golani Brigade as they were attempting to take down a flag that was affixed to the border fence. The soldiers were wounded by the blast, including one with serious injuries to his hand.
The IDF initially thought that the bomb was hidden inside the flagpole, which was planted during the weekly anti-Israel protest on Friday. However, after examining the size of the explosion, the IDF now thinks that another explosive was buried in the ground and was detonated together with the bomb hidden in the flagpole.
All were transferred to Soroka hospital in Beer Sheva for medical treatment, where the two severely injured soldiers underwent surgery. Doctors are feverishly working to save the hand of one of the soldiers from the Special Engineering Unit, who had been closest to the blast radius.
The incident is seen within the IDF as a major foul-up, as the terrorist managed to affix a bomb to the border fence despite the fence being under constant video surveillance by the IDF. A senior officer from the IDF's Southern Command slammed the decision to expose soldiers to risk of life and limb solely to remove a flag, which does not constitute a security threat.
"It's unfathomable that they are endangering soldiers simply to remove a flagpole. Why didn't they use a robot? They need to find another way to do it," he told Walla.