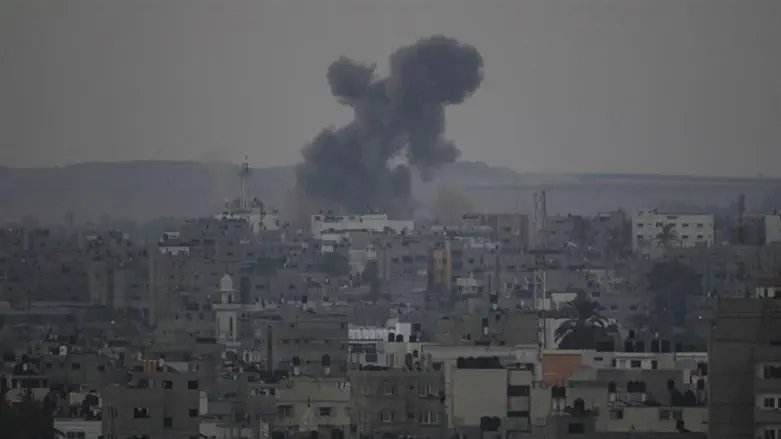 Attack on Gaza (illustrative)
Reuters
An IDF spokesperson on Saturday night said IDF fighter jets attacked Hamas terror targets in Gaza, in retaliation for terror activities carried out earlier on Saturday.
Four IDF soldiers were injured on Saturday when an explosive detonated as they patrolled near the Gaza border. The soldiers were transferred to Soroka Hospital in Be'er Sheva, and their families were notified.
"In a widescale operation, several terror targets were attacked, among them terror tunnels being built by the Hamas terror organization and running from the Zeitoun area towards Israeli territory, a military site near Netzarim which belongs to Hamas' special forces, and Hamas-owned weapons production sites in Khan Yunis," an IDF spokesperson said.
"A total of six terror sites belonging to Hamas were targeted.
"The IDF views harshly the Hamas terror organization's attempt to carry out popular and spontaneous protests which appear to be aimed at turning the border area into an area of conflict and using it to carry out terror attacks, which will disrupt the stability in Gaza.
"Hamas is responsible for the incident and its effects, as well as everything else which happens in Gaza and leaves Gaza, above and below ground.
"The IDF is determined to provivde security for Israeli residents, and will do that by every available means."