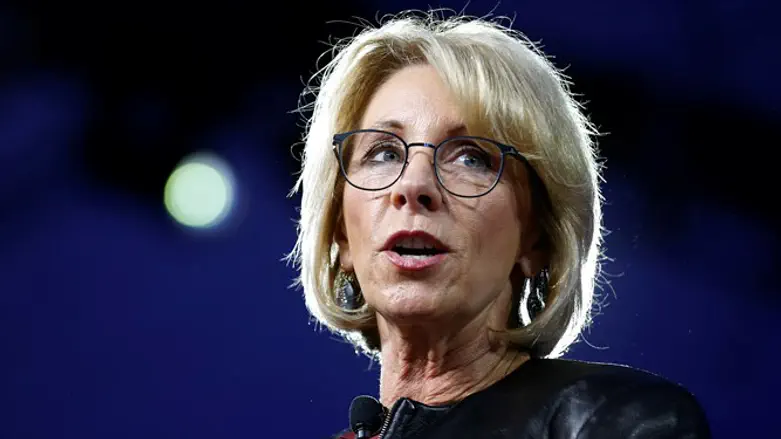 Betsy Devos
Reuters
The US Department of Education has announced that it will not investigate complaints from transgender students forced to use the bathroom corresponding to their true gender, NBC News reported Tuesday.
In May 2016, then-US President Barack Obama ordered US public schools to allow transgender students to use bathrooms and locker rooms corresponding to their preferred gender identity.
The order was claimed to be in keeping with the 1972 Education Amendments' Title IX prohibiting "sex discrimination" in education.
US President Donald Trump revoked that order in February last year.
On Tuesday, Education Department spokeswoman Elizabeth Hill explained that decision, saying that "Title IX prohibits discrimination on the basis of sex, not gender identity."
"Therefore the question is whether a student (regardless of gender identity) has been discriminated against on the basis of sex. Where students, including transgender students, are penalized or harassed for failing to conform to sex-based stereotypes, that is sex discrimination prohibited by Title IX. In the case of bathrooms, however, longstanding regulations provide that separating facilities on the basis of sex is not a form of discrimination prohibited by Title IX."
She also emphasized that the Department of Education's Office for Civil Rights will continue to use "current law and current regulation" in determining if any child is being "harassed or discriminated against due to race, sex, or disability" in school.
Both Education Secretary Betsy DeVos and the Department of Education "believe strongly that all students are to be protected from harassment and bullying and have the opportunity to learn in a safe and nurturing environment."
Meanwhile, Hill added, "The secretary would contend that it is the job of Congress or the courts, not the bureaucracy, to determine whether or not the term 'sex' under Title IX encompasses 'gender identity.'"
Los Angeles LGBT Center Director of Policy Dave Garcia, in response, insisted that, "Forcing students to use restrooms that do not align with their gender identities is clear discrimination. The US Court of Appeals for the Sixth and Seventh Circuits have already ruled to confirm the inclusion of transgender students in Title IX protections."
A Seventh Circuit panel of 3 judges said last May that requiring a student to use the bathroom corresponding to their biological gender instead of chosen gender identity "punishes that individual for his or her gender non-conformance, which in turn violates Title XI."
The law allowing transgender students, whether before or after transition, to use the bathrooms corresponding to their chosen gender did not provide limits to ensure those utilizing the law are truly transgender. This enabled individuals who "present as men" to use women's locker rooms, TIME noted.
In Illinois, a lawsuit submitted in 2016 stated that the plaintiffs "live in constant anxiety, fear, and apprehension, that a biological boy will walk in at any time while they use the locker rooms and showers and see them in a state of undress or naked. This anxiety, fear, and apprehension stays...throughout the day as they anticipate having to use the locker rooms again."
"The Defendant's actions have resulted in the...plaintiff being forced to have direct interactions with a biological male in the PE locker room, which makes her very scared and uncomfortable."
In January, this lawsuit was resolved when an Illinois court ruled that the biological boy is forbidden to use the girls' locker room without being restricted to a private changing area inside the locker room.
"Schools should never be forced to give male students unrestricted access to areas where girls are changing clothes. Claiming a female gender identity doesn't change that," attorney Thomas Brejcha said.
According to the New York Post, one student who "experienced immediate confusion, embarrassment, humiliation, and loss of dignity" sued his school district, "saying its transgender-friendly policy constitutes sexual harassment and a violation of privacy."