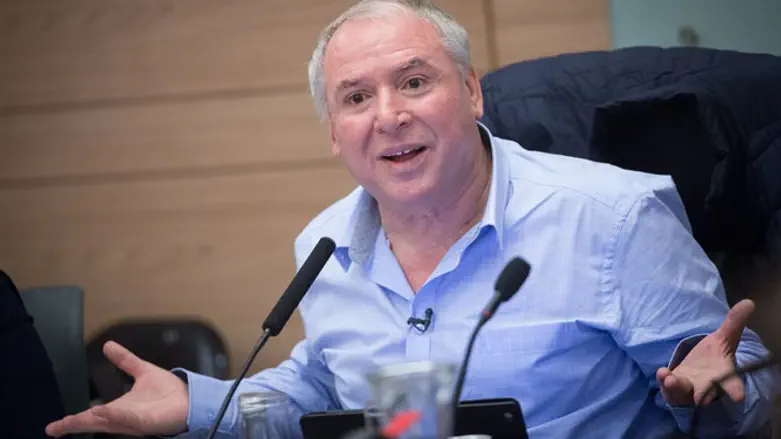 David Amsalem
Miriam Alster, Flash 90
Coalition Chairman David Amsalem (Likud) on Wednesday refused to apologize for his previous statements regarding Yesh Atid Chairman Yair Lapid, insisting Lapid is a "sneaky tattletale" ("shtinker" in Hebrew). Lapid, who has publicized his aspirations to become prime minister, is a key witness in the police investigation of Netanyahu.
"We're not talking about a great saint here," Amsalem told Army Radio. "He's not an innocent lamb. He always comes to the Knesset and yells, 'you're corrupt, you're corrupt!'"
Slamming the police, Amsalem said, "Israel Police did something illegitimate - they tried to change the Israeli government. There are things which are out of bounds in a democratic country."
Meanwhile, Regional Cooperation Minister Tzachi Hanegbi (Likud) told Reshet Bet that "Israeli Prime Minister Binyamin Netanyahu is the person most fit to lead the country."
"The cloud is dispersing, and the Prime Minister was right when he said that you don't bring down a government over cigars.
"Everyone, even if he is Prime Minister, is innocent until proven guilty, and the only ones who can decide otherwise are the appropriate authorities. At the end of the day, it was cigars and is cigars, and the public will decide. This isn't a legal issue."
Meanwhile, Meretz leader Zehava Galon told Army Radio that "Finance Minister Moshe Kahlon (Kulanu) and Education Minister Naftali Bennett (Jewish Home) need to show Netanyahu the way out."
On Tuesday evening, Israel Police recommended Netanyahu be indicted for Case 1000 and Case 2000.
While Netanyahu has denied any wrongdoing in either case, police have conducted an investigation into gifts the Prime Minister reportedly received from wealthy businessmen, including billionaire filmmaker Arnon Milchan, in what has been dubbed "Case 1000," or the "1000 Affair."
Investigators have probed allegations that Netanyahu and his wife regularly received gifts from Milchan and others. In December 2016, Milchan testified that he gave the Netanyahus boxes of cigars, bottles champagne, and jewelry – at their request. However, it seems Netanyahu does not smoke.
In a separate parallel investigation, dubbed "Case 2000," police probed allegations that Netanyahu conspired with the publisher of the Yediot Aharonot newspaper against Israel Hayom – a competing and popular pro-Netanyahu Hebrew daily distributed for free in Israel.
The case centers around claims that Netanyahu agreed to pass legislation, dubbed the "Israel Hayom Law," banning the free distribution of newspapers, in exchange for promises from Yediot publisher Arnon Mozes that his paper would tone down its criticism of the premier.