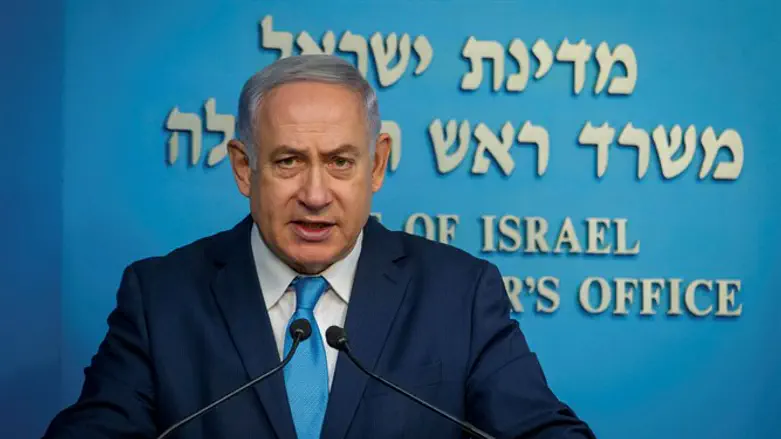 Prime Minister Binyamin Netanyahu
Hillel Meir/TPS
Prime Minister Binyamin Netanyahu delivered a statement Tuesday night, responding to the police report recommending that indictments be filed against Netanyahu in both the "Case 1000" and "Case 2000" investigations.
On Tuesday, investigators announced that they had collected sufficient evidence to charged Netanyahu with taking bribes and breach of trust over his alleged receipt of some one million shekels ($283,000) in gifts from wealthy supporters and charges of collusion with a newspaper publisher to grant political favors in exchange for more sympathetic coverage.
In his response Tuesday night, Netanyahu declared that he would not resign as Prime Minister, and vowed that his coalition government would serve out the remainder of its term, set to end in November 2019.
"I feel that it is incumbent upon me to continue leading the State of Israel," Netanyahu said. "Citizens of Israel, you know that all the work that I have done was with the good of the State of Israel in mind. Nothing will distract me from this sacred duty. Today isn't any different from so many other days."
"Our government will finish its term," added Netanyahu.
Police claim that they have evidence suggesting that Netanyahu received hundreds of thousands of dollars in gifts from wealthy supporters, including billionaire filmmaker Arnon Milchan, in what has been dubbed "Case 1000", or the "1000 Affair".
Investigators also claimed Tuesday that there was evidence that the Prime Minister had colluded with Yediot Aharonot publisher Arnon Mozes to pass legislation harming a competing paper, Israel Hayom, in exchange for favorable coverage.
The Prime Minister ridiculed the allegations Tuesday, citing his opposition to the "Israel Hayom Law", which would have barred free distribution of newspapers in Israel. Israel Hayom, a free Hebrew daily, is one of Yediot Ahronot's key competitors.
"Hardly a day goes by without another baseless attack on me," said Netanyahu.
"They go after my wife and children as well in order to hurt me," said Netanyahu, referring to the recent leaks of audio recordings of his wife, Sara, and son, Yair.
"Because I know what the truth is, I say to you that once again, nothing will come of this. I want to emphasize that these recommendations have no status in a democratic system.
"I pushed to close Channel 10, which was owned partially by Milchan. How can you claim that I worked to benefit him? I worked totally against Milchan's interests."
"How could it be claimed that I tried to advance [Arnon] Nuni Mozes' interests by passing the Israel Hayom Law? I dissolved the Knesset and risked my own political future [to stop passage of] the Israel Hayom Law."
n Hebrew).