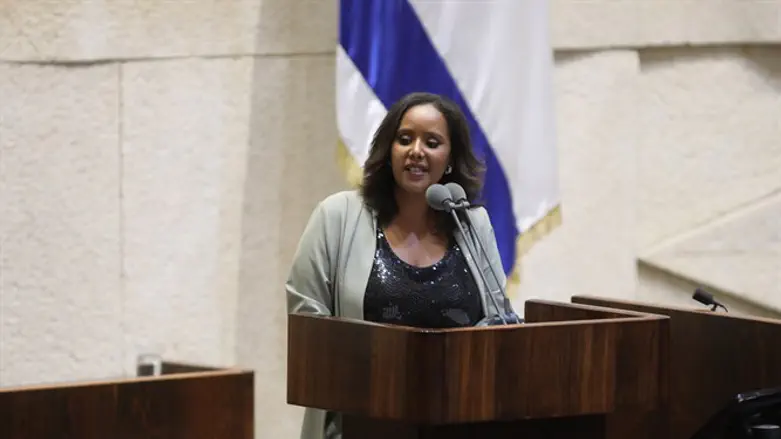 Penina Tamanu-Shata
Isaac Harari
Penina Tamanu-Shata on Monday evening was sworn in as a member of Knesset, representing the Yesh Atid party.
Tamanu-Shata, who also served as an MK in the 19th Knesset, replaces Yaakov Perry who last week announced his resignation from the Knesset in the wake of an investigative report about him which aired on Channel 12's "Uvda" program.
"One of the most significant experiences I have experienced over these past few years is the struggle against discrimination and racism against Israelis of Ethiopian origin and others, a struggle so just that it shook a community and an entire public and me on the most personal level, as someone who stood at the forefront of the struggle," said Tamanu-Shata.
"I felt the need to create a dialogue and discourse that cuts across sectors of society, that is centered on the unity of the people and acceptance of the other. I will aspire to be here for those whose voices are not heard enough in this building, the helpless, old people, adults and youth at risk, new immigrants, single parents and disadvantaged populations suffering from exclusion and weakness," she continued.
"I will do it as best as I can with a deeper understanding than in the past that there are unique tools here to lead a different culture and reality and we must not take this for granted. Because this is our moral and public duty," concluded Tamanu-Shata.