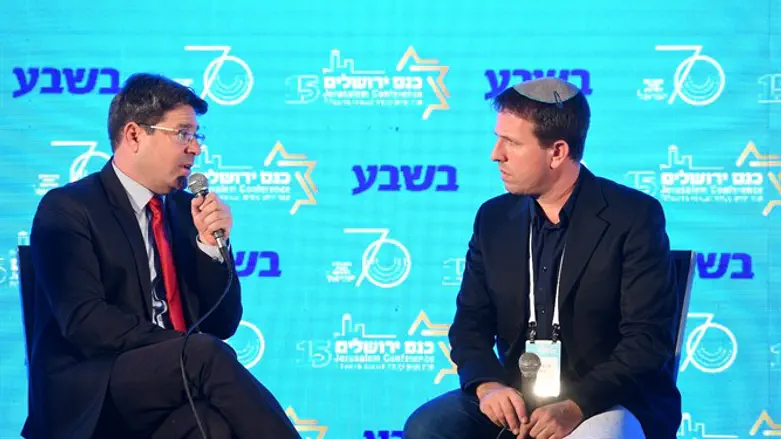 Ofir Akunis speaking with Arutz Sheva
Yisrael Bardugo
Science Minister Ofir Akunis says that while normalizing the status of unregulated settlements is important, it does not replace painful punishment not only for terrorists who harm Jews but also for their families.
"We have to build in the entire Land of Israel and not condition it on terrorism. Of course, I'm happy to have voted to authorize Havat Gilad. But there is also a very effective tool that can be used: Expulsion: Deporting the terrorist's family. And another tool: Demolishing the terrorist's house immediately, without waiting for the Supreme Court," said Akunis at the 15th Jerusalem Conference of the Hebrew weekly newspaper B'Sheva.
He added that, in his opinion, there was also "a chance to stop the terrorist at the stage where he declares his intentions on social networks. The terrorist from Neve Tzuf had written explicitly on Facebook that he was going to murder Jews, and technology companies have the tools to monitor this information and keep in touch with the security forces," he said.
Akunis also spoke about the subject of sovereignty and the Prime Minister's statement today that the issue is coordinated with the Americans. "First of all, before imposing sovereignty over all the territories of Judea and Samaria, sovereignty should be applied to all of Area C, the area that isn't subject to dispute and where all the Jews live. And yes, I think the Prime Minister is acting correctly when he talks about coordinating with the Americans, because God has performed a miracle for us and there are now a President and Vice President in the White House who sympathize with the people of Israel and the Land of Israel."
"I promise that when this issue comes up for a vote after coordination with the right agencies, I will vote for this law without question," Akunis added.
Akunis went on to say that comparing the deportation of illegal immigrants to the expulsion of Jews in Europe and North Africa by the Nazis is a grave and unforgivable act.
"A law-abiding regime can't allow lawbreakers who infiltrated into the country to stay here, and the government's decision was made with the approval of the Supreme Court and in accordance with international law. The fence built by the previous Netanyahu government between Israel and Egypt saved us a lot of infiltrators. If not for this fence, we would be facing half-a-million infiltrators and not fifty- to sixty-thousand," Akunis said.