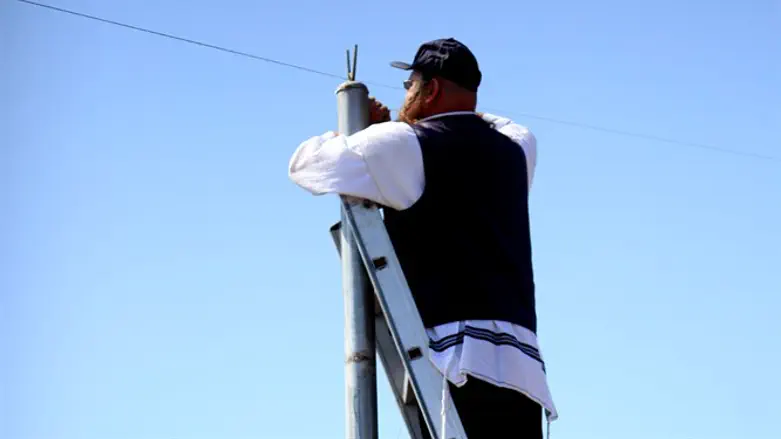 Repairing an Eruv (archive)
Flash 90
Residents of Jerusalem's Bayit Vegan and Kiryat Hayovel neighborhoods are up in arms after their Eruv was been repeatedly vandalized. In each instance, the vandalism occurred shortly before Shabbat, leaving no time to repair the Eruv. This past Friday, the Eruv was ripped in six different places, preventing religious residents from carrying items outside of their homes.
An Eruv, usually a string or fabric piping stretched around a neighborhood to create a single 'domain', allows observant Jews to carry objects and push strollers outside of their homes on the Sabbath - acts they would otherwise be barred from performing in the public domain during the day of rest.
After the recent acts of vandalism, Jerusalem Deputy Mayor Dov Kalmanovich penned a letter to Jerusalem District Police Commander Yoram Halevi and demanded that police intervene.
"In recent weeks there have been many complaints of malicious sabotage of the Eruv which surrounds the neighborhoods of Kiryat Yovel and Beit Vegan," wrote Kalmanovitch.
Kalmanovitch pointed at the growing tensions between haredi and secular residents of Kiryat Hyovel as the reason behind the vandalism. "There have recently been difficult confrontations between the religious residents of Kiryat Yovel and extremist elements in the neighborhood who are trying to inflame religious hatred and strife," he wrote.
"In order to protect public safety and to act against extremist elements, I ask you to enforce the law, to investigate, to investigate and to catch the lawbreakers and to bring them to trial."
Recently, the influx of haredim into previously secular Kiryat Yovel has caused many harsh disagreements between the two communities where Religious Zionist and secular Jerusalemites lived in peace for decades, careful not to offend one another.
A non-elected community management committee appointed by the municipality has exacerbated conflict, according to the neighborhood's Religious Zionist rabbi. Last year, haredi protests forced the cancellation of a community event and in response, the secular community called to "choke the haredim" out of the neighborhood.