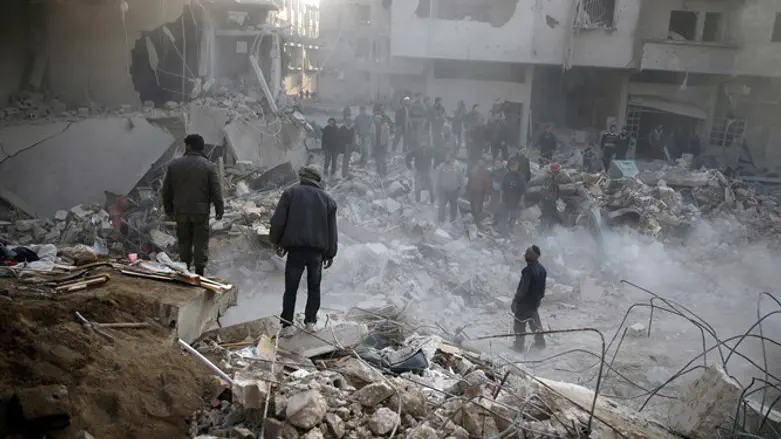 Aftermath of airstrike near Damascus
Reuters
At least six people were killed Saturday during Israeli airstrikes on regime targets in Syria, an anti-Assad NGO organization has reported.
Israel Air Force fighter aircraft attacked several military targets operated by the Assad regime and its allies in and around the Damascus area Saturday, including a command and control center used to direct an unmanned aircraft which violated Israeli airspace.
The Iranian-built drone aircraft was shot down by Israeli forces after it penetrated Israeli airspace.
IAF aircraft responded by attacking the command center which had directed the drone, as well as Syrian surface-to-air missile batteries which opened fire on the Israeli aircraft.
One IAF F-16I "Sufa" fighter was shot down during the incident.
Both crew members managed to bail out of the plane before it crashed, and were recovered by Israeli rescue teams.
On Sunday, a human rights group opposed to the Assad regime claimed that six people had been killed in the Israeli airstrikes in Syria, including both government officials and non-Syrians allied with the Assad government.
"The Israeli strikes on several areas in Homs, Rif Dimashq [Damascus] and its outskirts kill 6 members of the regime and its allies of Syrian and non-Syrian nationalities," The Syrian Observatory for Human Rights tweeted Sunday.
No further comments elaborating on the nationalities of the non-Syrians were published, though the drone aircraft based at the command and control center that was hit was built and operated by the Iranian regime.