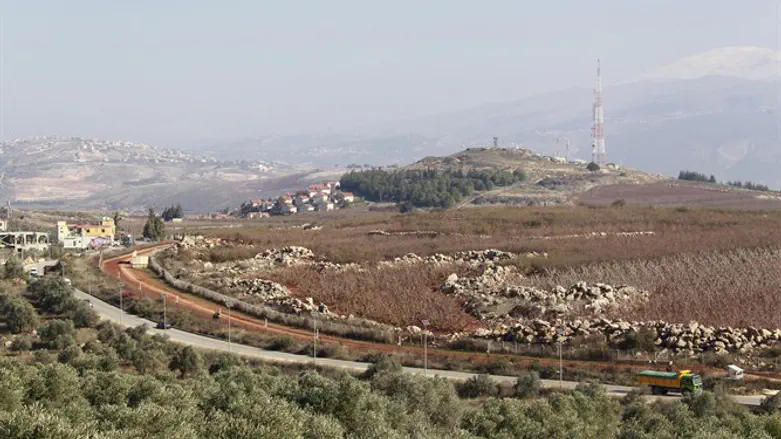 View of Lebanese-Israeli border from Kfar Kila, southern Lebanon
Reuters
Senior Iranian official Ebrahim Raisi, considered successor to the current leader Ali Khameini, visited southern Lebanon last month, accompanied by Hezbollah fighters, the Hebrew daily Ma'ariv reported on Tuesday. The visit spanned several days and included a tour of the organization's strongholds and a meeting with senior Hezbollah members including Hassan Nasrallah, as well as other spiritual leaders.
The visit comes amid growing tensions on the northern border between Israel, Hezbollah, and Iran. The latest issue raising tensions between Israel and Hezbollah is the establishment of a missile factory in Lebanon financed by Iran, as well as a munitions shipment to Hezbollah by Iran. Over the past three decades, Iran has supported the Hezbollah terror group with arms, funds, and logistical support. The establishment of dedicated missile factories, however, marks a significant change in the relationship, as well as Hezbollah's future strategic capabilities.
"Jerusalem's liberation draws near," Raisi said during the visit, noting that Hezbollah's importance to Iran is paramount. "This is an Islamic movement that goes beyond military and security issues and dedicates its strength to contribute to building a broad Islamic culture in Lebanon," Raisi said.
Gen. Shimon Shapira, the former military adviser to Prime Minister Binyamin Netanyahu was quoted by Ma'ariv as saying that "the visit was meant to make it clear to Israel that Iran is not deterred by the recent Israeli threats." Shapira added that "Iran is determined to arm Hezbollah and strengthen its capabilities in Lebanon."