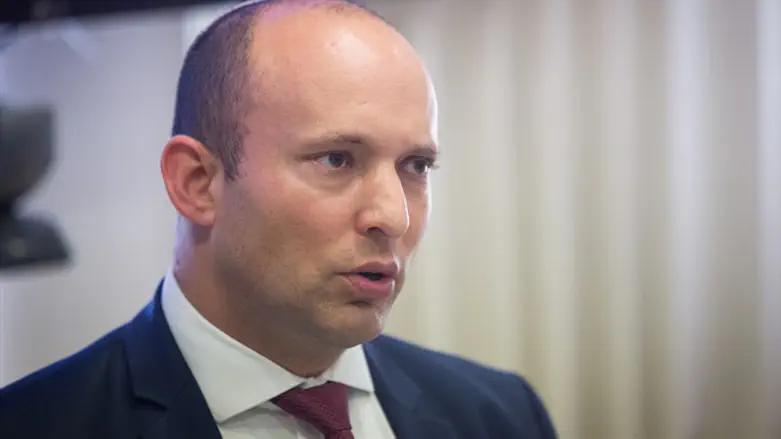 Naftali Bennett
Yonatan Sindel/Flash90
Israeli Education Minister Naftali Bennett (Jewish Home) has scheduled a trip to Poland this Wednesday as part of Israel's diplomatic efforts against a bill recently passed by the Polish legislature banning the phrase "Polish death camps" and barring publication or public discussion of Polish complicity in the Holocaust.
Earlier this month, the US criticized Poland over the passage of the bill, which would impose a maximum sentence of three years in prison for anyone who mentions Polish involvement in the Holocaust. Researchers would be exempted under the bill.
The bill passed the lower chamber of the Polish legislature late last month, before being approved by the Polish senate. Polish President Andrzej Duda must sign the bill before it can go into effect.
Israeli leaders have criticized the proposed law, which has been described as an attempt to whitewash Polish actions during the Holocaust.
"The law is baseless; I strongly oppose it," Prime Minister Binyamin Netanyahu said. "One cannot change history and the Holocaust cannot be denied."
On Monday, Israel's Education Minister announced his plans for an official visit to Poland as international pressure mounts on President Duda to veto the bill – even as members of Poland's Law and Justice party urged him to sign it.
During his trip, Bennett will give an address to Polish students and meet with Poland's deputy premier and minister of science and higher education.
Bennett vowed he would 'make the facts clear' to the Polish government regarding the Holocaust.
"I'm determined to make it clear that the history is beyond dispute – Poland was proven to have been involved in the murder of Jews during the Holocaust. I'm going to say the truth at the place where it happened – and the truth isn't dependent on this [proposed] law or any other."
"I believe that we can end the current dispute with the Polish government with dialogue, as opposed to by trading statements through the media. That's why I'm going to travel there to meet with young students in Poland and with the country's political leadership. The message is clear: You can't rewrite the past, but the future we can write together."