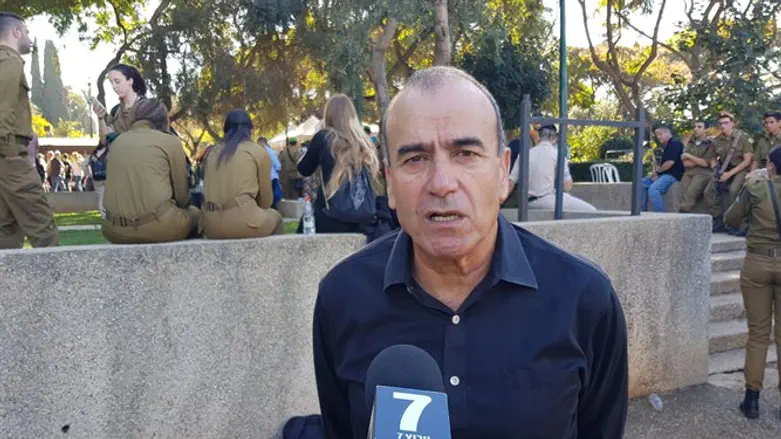 Yom Tov Samia
Yoni Kempinski
Former IDF Southern Command Commander Yom Tov Samia rejected the claims that Israel has placed a siege on Gaza.
In an interview with Channel 10's "Orly and Guy" program, Samia acknowledged that the situation in Gaza is critical, but said that the area's Hamas leadership are responsible. Hamas receives 650 truckloads of equipment a day, but instead of giving these to the residents, Hamas uses the merchandise for itself, selling it at outrageous prices or using the materials in order to dig terror tunnels.
The Hamas terror organization which rules Gaza has firmly rejected the Palestinian Authority's (PA) demand that Hamas surrender its weapons and submit to PA authority. Israel limits who is allowed to enter Israel from Gaza, in order to prevent security threats to Israelis and stave off another war.
According to Samia, the way to help Gazans is to allow another 5,000 Gazans to work in Israel, after they undergo strict security checks to ensure they are not terrorists. These Gazans would bring in more money, thus helping the residents.
Samia emphasized that there is no siege on Gaza, and that everything except weapons and ammunition is allowed to be brought into the area.
"I speak with Gazans," he said. "There is no siege on Gaza. Everything that the PA wants to bring into Gaza is allowed in, other than tanks and rifles. Everyone knows this."
Samia also noted that the crisis in Gaza is a result of the fact that Hamas has not internalized that its job ask Gaza's leaders is to help Gaza's citizens. Hamas prefers to involve itself in terror, believing that this will, at the end of the day, help all of Gaza's citizens.