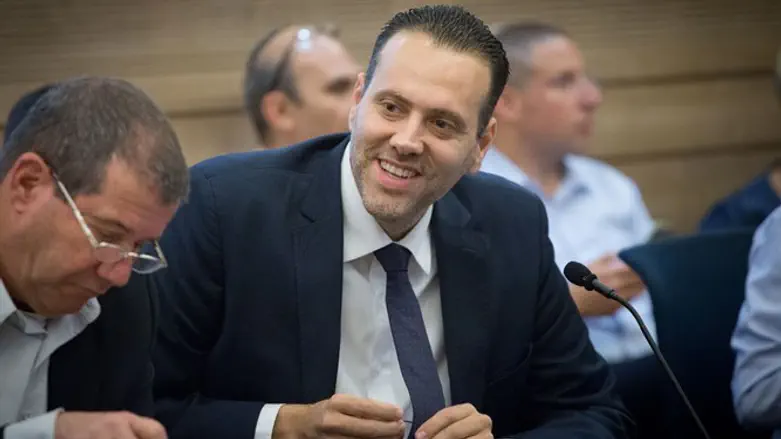 Miki Zohar
Miriam Alster, Flash 90
The Facebook page of the left-wing NGO "Sixty One" recently featured an article penned by Joint Arab List MK Ahmed Tibi, slamming Likud MK Miki Zohar for his recent criticism of moves by the IDF to expand the number of female combat soldiers, citing the possible health risks to female soldiers.
In a piece titled, "Danger of mental collapse," Tibi wrote that Zohar is "a junior Likud MK by day, and a military leader and OB/GYN hobbyist by night."
"From what we have seen, Zohar's main sources are extreme right-wing propaganda."
Last week, Zohar expressed opposition to the IDF lowering its operational level in order to integrate more women into combat units, saying that he would not want his daughter to develop uterine prolapse or knee issues "like many women who serve in combat units suffer."
Sixty One claimed that MK Michal Biran (Zionist Union) asked Tibi, who trained as an OB/ GYN, what his opinion on Zohar's statements were.
Tibi responded that Zohar's statements "did not match what he had learned" in medical school.
Summary of the study (screenshot)
Yet there are in fact a number of studies showing significantly higher rates of pelvic organ prolapse among women who served in combat units.
In the September 2012 issue of Journal of Women's Health, an article titled "Current Challenges in Female Veterans' Health," mentioned that "pelvic organ prolapse may be a concern for women in the military, as strenuous activitiy, including basic and paratrooper training, could increase risk above that caused by general risk factors."
In one study by Dr. Christine Sears, M.D., found that "50% of the women exhibited some loss of pelvic floor support after training," and a follow-up study revealed a significant correlation between paratrooper training and worsening pelvic support and prolapse."
In June 2017, a study showed that women in combat suffer more stress fractures, torn ligaments, anemia, and urinary tract infections than in male combat soldiers. In addition, male soldiers suffer more injuries while serving in mixed units than in all-male units.
Despite criticism by some army officials and Forum for a Strong IDF, Chief of Staff Gadi Eizenkot has backed the expansion of combat roles for female service members and cracked down on internal criticism of the policy.