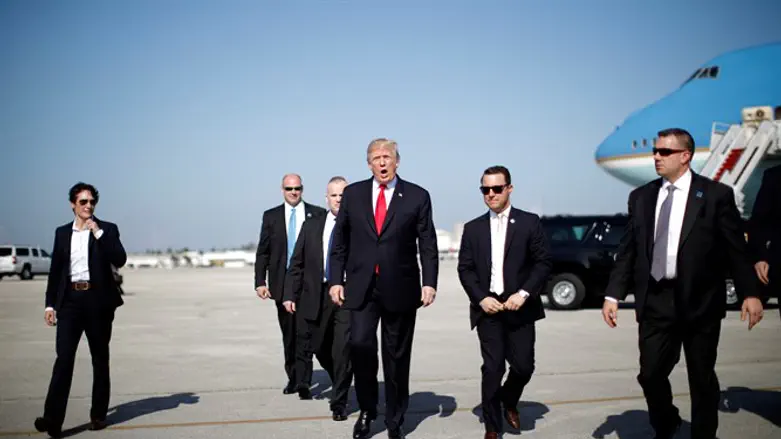 Trump
Reuters
President Donald Trump is considering presenting his Middle East peace plan to Israel and the Palestinian Authority in the near future, a report released Thursday night claims.
According to the Channel 10 report, which cited sources in Washington, Trump is weighing whether to present his plan for Israeli-Arab peace, despite the Palestinian Authority's refusal to participate in negotiations.
Trump's main reason for presenting the plan is to show the international community the parameters of his initiative. "Because the plan has not yet been finalized, we have not yet decided how to present it and what will we do if one of the parties is not prepared to come to the negotiating table. We are not there yet," said the source.
"We are optimistic that all the relevant countries that support a peace agreement are still waiting for our plan, they want to work with us and understand that the United States cannot be replaced as a mediator," the official added.
Relations between the Trump Administration and the Palestinian Authority were suspended following President Donald Trump's decision to recognize Jerusalem as the capital of the State of Israel in December of last year.
Earlier this week, US Special Envoy to the Middle East Jason Greenblatt said that the United States would not force its plan on either side.
"We will not impose a deal on either party. But we know that the desire for peace is real, it is powerful, and it must be harnessed" said Greenblatt at the annual Israeli Insitute for National Security Studies (INSS) conference.
While the details of Trump's peace plan have yet to be released, the plan reportedly differs radically from those offered by his predecessors. According to reports regarding the plan, the PA would be offered noncontiguous parts of Judea and Samaria, with limited sovereignty, and without eastern Jerusalem as its capital city. Jewish towns in Judea and Samaria, for the most part, would be allowed to remain in place.
In addition, no Palestinian Arabs would be granted a "right of return" to Israel.