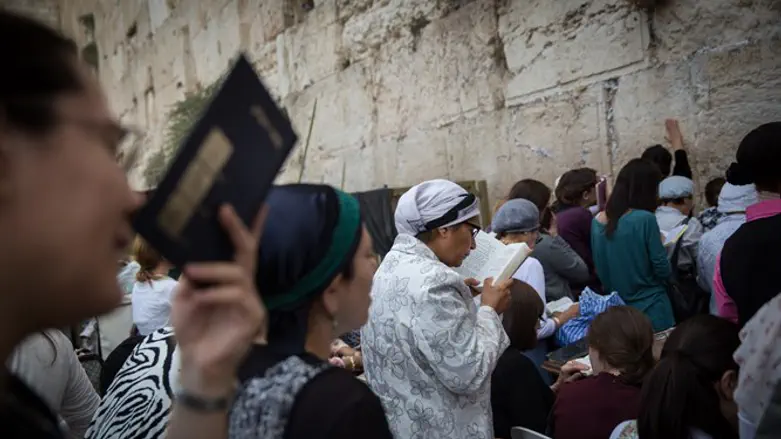 Female worshippers at Western Wall (Kotel)
Flash90
A group of haredi women penned a letter to Western Wall Rabbi Shmuel Rabinowitz imploring him to put an end to the "humiliating" body searches they were forced to undergo earlier this month by security guards who mistakenly thought that they were attempting to smuggle in Torah scrolls for the 'Women of the Wall' organization.
The women are being represented by 'Women for the Wall', a haredi organization which works to counter the Women of the Wall group. The left-wing Women of the Wall group holds non-traditional prayer services each month at the main Western Wall Plaza, in defiance of local custom. While a separate prayer space is available at the south end of the Wall, activists have insisted on praying in the main plaza, despite the objections of other worshipers.
In the letter to the Rabbi Shmuel Rabinowitz, the women asked that the body searches be nixed, and decried the "needless" searches they had been put through.
"The security guards harassed women and girls who wanted to attend Rosh Chodesh prayers," read the missive. "They underwent humiliating physical examinations and were detained for a prolonged delay that effectively prevented them from praying."
"While the Reform Women of the Wall group succeed repeatedly in causing provocations without interruption, hundreds of girls and women are delayed for more than an hour in lines to the Western Wall and undergo a series of humiliating and humiliating inspections," continued the letter.
"It is unthinkable to delay and humiliate thousands of regular worshipers, whose only desire is to pray at the Western Wall, for the benefit of a handful of women working against the law, who defend women's rights, but actually hurt the feelings of thousands of regular worshipers".
While the Women of the Wall are permitted to pray at the Western Wall by a 2013 court order, they are not allowed to "disturb the customs of the site", which includes reading from a Torah scroll. Despite the legal prohibition, the Women of the Wall often attempt to smuggle in Torah scrolls, including using methods which some observant Jews say debase the religious articles.
As a result, Western Wall officials have been holding increasingly stringent body checks on the Jewish new month festival of Rosh Chodesh, when the Women of the Wall generally conducts their provocative prayers at the Kotel.
In August, Rabbi Shmuel Rabinovitch blasted the Women of the Wall after Kotel officials caught them smuggling Torah scrolls attached to their legs. "Today, on the first day of Elul, all red lines were crossed – those who smuggled holy Torah scrolls bound to their bodies, those who hide whistles in their private places, and for what? For the 'sanctity' of a civil war at the Western Wall?" he said.