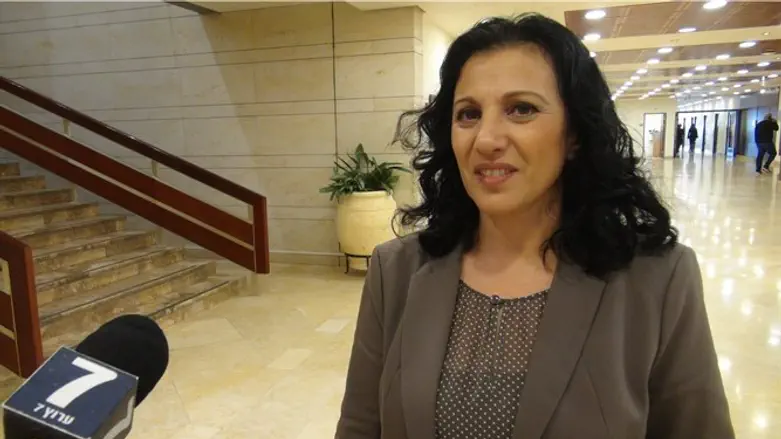 MK Nurit Koren
Hezki Baruch
MK Nurit Koren (Likud) slammed the Joint Arab List's proposal to pass a "Palestinian Nationality Law" as a response to the Nationality Law.
The "Palestinian Nationality Law" was proposed by Joint Arab List MK Yousef Jabareen.
"The Palestinian List's MKs are used to having excess rights without any kind of obligation to the State," Koren told Arutz Sheva.
"The 'Palestinian List' MKs intend to advance a bill that is fit more for one of Steven Spielberg's science fiction movies than for Israel's Knesset. And even this bill is something they copied from us.
"This bill discusses their aspiration to reach a status quo which already exists. Israel is prospering and full of hope, and is a completely democratic country. The Arab sector, the ones who want to be a true part of the State of Israel, is enjoying enormous momentum in all areas.
"I suggest the Joint Arab List MKs concentrate on truly working for the good of the Israeli citizens who elected them, instead of trying to concoct provocations and science fiction movies about an imaginary nation of job seekers who came from Arab countries a long time after the Jewish nation."
If passed, Israel's Nationality Law would define Israel as a Jewish state. The bill passed its first reading, but was then blocked by Finance Minister Moshe Kahlon (Kulanu), who claimed it "discriminated" against non-Jewish citizens of Israel.
The Nationality Law would legislate Israel's status as the national home of the Jewish people and emphasize that Hebrew is the official language of the state and has a "special status." The law also states that Jerusalem is the capital of Israel.
You can watch the Hebrew video here:
"הצעת רשימה המשותפת - מדע בדיוני"
חזקי ברוך