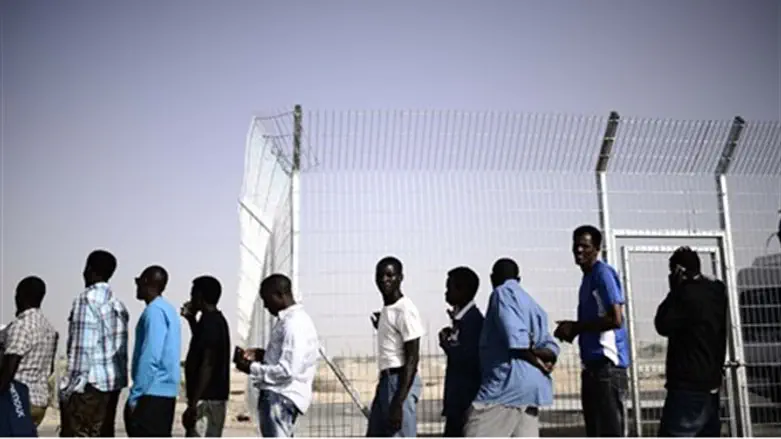 Infiltrators.
Tomer Neuberg, Flash 90
JTA - Interior Minister Aryeh Deri (Shas) told a Knesset committee that there is a third country that has agreed to take African migrants who will be expelled from Israel beginning in April.
On Monday, Aryeh Deri told the Internal Affairs and Environmental Protection Committee that there was "unequivocal assent with a third country over forced expulsion," though he did not name the country, Ynet reported.
It is widely believed to be Rwanda or Uganda, despite denials by those governments.
"I take responsibility for saying this, despite the news from the last few days, that everything is being done with full agreement of the third-party country, which knows everything to the last detail," Deri said.
Deri said his office will draw a distinction between Africans who came to Israel seeking work and refugees who came from war zones seeking sanctuary. He said anyone who submitted requests for asylum by Dec. 31, 2017, and whose request has not yet been processed, will not be deported, including mothers, children and families.
Most young African migrants who did not arrive with children did not submit requests for asylum, Deri said. Israel has begun to deport them to a third country.
A total of 14,700 asylum requests were submitted in 2017, Deri told the committee — 7,700 from Ukrainians, 906 from Sudanese and the rest from other countries.
Several lawmakers were ejected from the committee meeting as the debate on the expulsions became heated. As she was being ejected, Tamar Zandberg of the left-wing Meretz party shouted at members of the ruling Likud, "You're friends with Nazis."
Later she told reporters, "I stand by my assertion that the ruling party's ties to anti-Semitic and Nazi parties in Europe are a disgrace to the State of Israel and to its government."
Israel's Cabinet earlier this month approved a plan and the budget to deport thousands of migrants from Sudan and Eritrea.
Prior to that, the Population and Immigration Authority notified migrants from Sudan and Eritrea that as of Jan. 1, they must return to their own countries or to a third nation or be sent to Holot Prison until they are deported. According to the government plan, migrants who choose to leave by March 31 will receive a payment of $3,500 as well as free airfare and other incentives, according to reports.