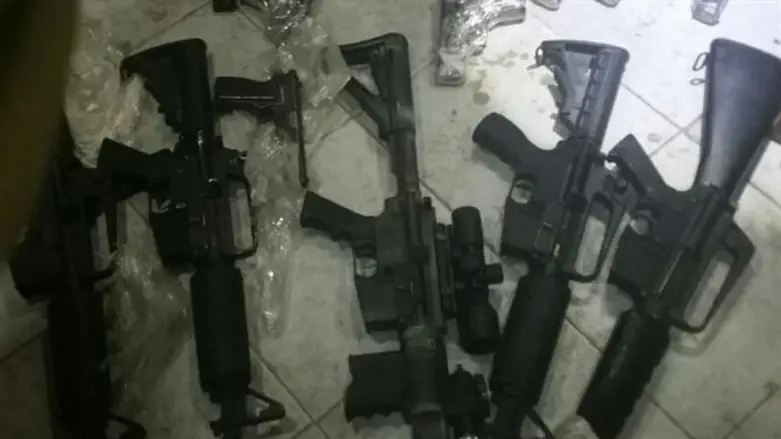 Archive
IDF Spokesperson's Unit
The Ministerial Committee for Legislation approved a bill that would harshly increase prison sentences handed out to those caught stealing weapons from IDF bases. The bill will now advance to the Knesset, where it is expected to pass its required three readings in order to become law.
The IDF has been rocked by string of weapons and equipment thefts in recent months, particularly at its Tze'elim training base, in which Bedouin disguised as IDF soldiers arrive in the area via tractors, steal soldiers' personal belongings, and escape. So far, security forces have not been able to put an end to the problem.
"The phenomenon of theft of weapons, or the break-in of military bases and arms depots has become a phenomenon that must be fought against by increasing the punishment of those who steal weapons or who are trying to steal weapons," said MK Anat Berko (Likud), who sponsored the bill.
Berko predicted that the bill would reduce weapons thefts, pointing out to a clause that imprisons people caught dealing weapons or the parts for ten years. "Those who steal weapons use it for crime and terrorism and constitute a direct danger to the security of citizens," contended Berko. "The situation today is unbearable and stolen weapons are used for crime and terrorism and are rising in human lives."
While the phenomenon of Bedouin stealing weapons from IDF bases has existed for a while, the issue has recently received more publicity after a group of fed up reservists recently launched a campaign titled 'Ending the Lawlessness In Tze'elim' showcasing the lax enforcement and constant theft of weapons and personal property.
Campaign founder Arik Greenstein told the Knesset Foreign Affairs and Defense Committee last week that exceedingly tight rules of engagement prevent soldiers from confronting Bedouins who they witnessed making off with large quantities of weapons and expensive property. "The rules of engagement in the south are like in Tel Aviv, and no reserve soldier will act because he doesn't want to get into trouble. He comes to train for the next war and doesn't want a long legal investigation and lawyers costs."
Last April, 2,000 IDF reservists petitioned IDF Chief of Staff Gadi Eizenkot to prevent the theft of military equipment from IDF bases and training grounds in the Negev.
The IDF has been upgrading its weapons storehouses in response to a recent spate of thefts from IDF bases. In early October, thieves broke into an IDF base and stole anti-tank explosive devices, thunder bombs, anti-tank mines, explosive bricks, and bullets.
Last May, 33 M-16s were stolen from an IDF armory on the Sdeh Teiman base in southern Israel. After an investigation, a renovations contractor working on the base turned out to be accomplice and police rounded up the criminal ring.
In response, IDF chief Gadi Eizenkot ordered the military to invest NIS 15 million in safeguarding the IDF's weapons storehouses. The measures will include biometric scanners, additional cameras, and improved locks.