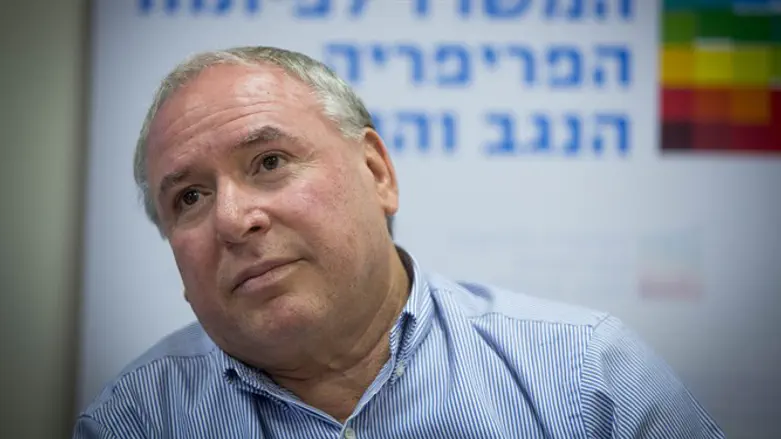 David Amsalem
Yonatan Sindel/Flash 90
Coalition chairman MK David Amsalem (Likud) blasted poet Yehonatan Geffen who caused an uproar last week when he published a poem on his Instagram account glorifying Palestinian Arab teen Ahed Tamimi, who was recorded slapping Israeli soldiers.
Geffen compared Tamimi to heroic victims of oppression throughout the generations, from David against Goliath to Hannah Szenes, who courageously parachuted into Europe to rescue Jews during the Holocaust and was later tortured and murdered by the Nazis, and Anne Frank, famous teenage diarist, murdered in the Holocaust.
"Yehonatan Geffen came and legitimized a Palestinian girl who humiliates and beats soldiers," Amsalem said in an interview on Hadashot TV on Friday evening. "Yehonatan Geffen is encouraging the next terrorist to come and kill soldiers, too."
"Where does this self-hatred come from?" continued Amsalem. "If it had been a rabbi who lives in Judea and Samaria who said such things, I'm not sure he would not have been arrested."
Following the publication of the poem, Defense Minister Avigdor Liberman ordered Army Radio not to play songs written by Geffen or to interview him, though Attorney General Avichai Mandelblit later stated that Liberman does not have the authority to issue such an order.
The saga continued when Geffen's son Aviv, a rock star and a controversial figure in his own right, ripped Liberman and wrote on Facebook, among other things, "Instead of fighting religionization you're fighting songs, because as opposed to haredi parties, songs can't fight back."
In response, Liberman fired back and said, "You have erred, Aviv Geffen. I am not fighting songs. I am fighting lies, I am fighting the comparison of a terrorist, who takes advantage of the restraint of IDF soldiers and officers who risk their lives to protect us, to the heroine Hannah Szenes. I am fighting belittlement of the Holocaust. And I am doing this for the honor of the State of Israel."