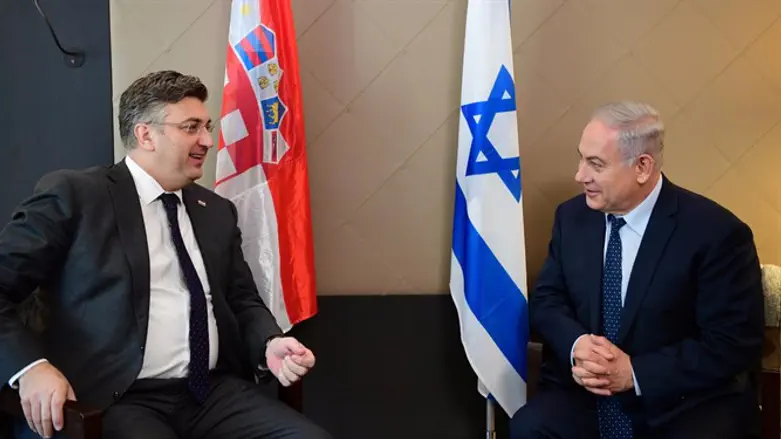 PM Netanyahu and Croatian PM Andrej Plenković
Amos Ben Gershom, GPO
Israeli Prime Minister Binyamin Netanyahu on Thursday evening met Croatian Prime Minister Andrej Plenković in Davos, signing an agreement to advance the sale of Israeli F-16 fighter jets to Croatia.
Both leaders agreed to expand cooperation in the areas of economy, security, agriculture, water, academia, and tourism.
According to some of those involved, the F-16s will be sold for approximately $500 million.
Meanwhile, it is very possible that Israel will need a fleet of older planes - either F-15s or F-16s - to defeat Iran. Israel's F-15s are approaching the end of their lifespan, and they are expensive to maintain, forcing Israel to use F-16s in any viable attempt to defeat Iran.
On Thursday evening, Netanyahu met with Czech Prime Minister Andrej Babis and then with Dutch Prime Minister Mark Rutte, discussing with them ways to increase cooperation in various areas. He also briefed them on the challenges and opportunities in the Middle East and invited them to visit Israel.