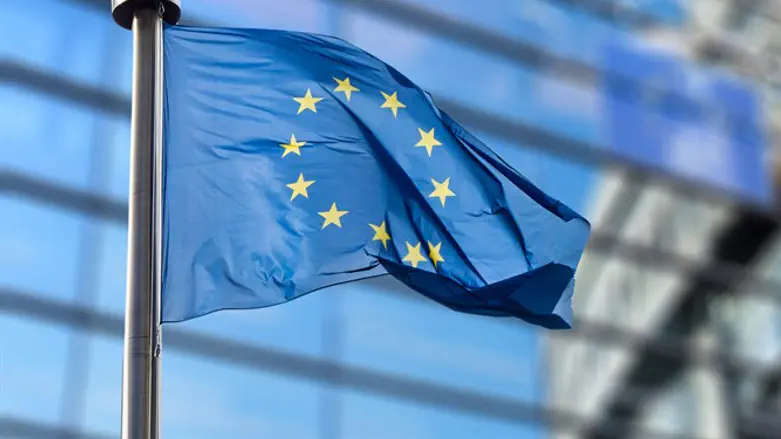 European Union flag
iStock
The Knesset delegation to the European Union's Council of Europe, a key human rights assembly, managed to get the body to pass a resolution condemning the Palestinian Authority (PA) for paying salaries to terrorists jailed in Israeli prisons.
The resolution had been drafted by the Palestinian Authority and condemned President Trump's recognition of Jerusalem as Israel's capital. However, the Israeli delegation added an amendment condemning the PA for the financial support it provides to terrorists.
Ambassador Carmel Shama-Hacohen's declared victory, telling Arutz Sheva that "foisting responsibility on the Palestinians for acts of terror and the call to stop it is an important diplomatic achievement. The Palestinians regret for initiating the unnecessary move, but this is how they act- always using incitement and lies."
"All in all, we are satisfied even though this is another hypocritical and obsessive preoccupation of Europe with other people's problems instead of the real issues" added Shama Hacohen.
Knesset Member Aliza Lavie, head of the Knesset delegation, said after the vote, "The European institutions' obsession with dealing with Israel has remained the same, but as a result of a stubborn effort we succeeded in including in the final report an explicit call to end support for terrorists and their families."
Israe has long pressed the international community to pressure the PA to cease paying terrorists who attacked Israelis. Last week, the Defense Ministry revealed the figures for terrorist salaries paid out by the Palestinian Authority during 2017 and found that such payments make up more than 7% of the PA's budget.
According to the data, imprisoned and released terrorists received more than NIS 550 million. Families of suicide bombers and wounded received about NIS 687 million from the PA coffers. A terrorist sentenced to three to five years' imprisonment receives NIS 2,000 a month. Terrorists sentenced to 20-35 years of imprisonment receive NIS 12,000-12,000 a month, which only ceases when the terrorist passes away.