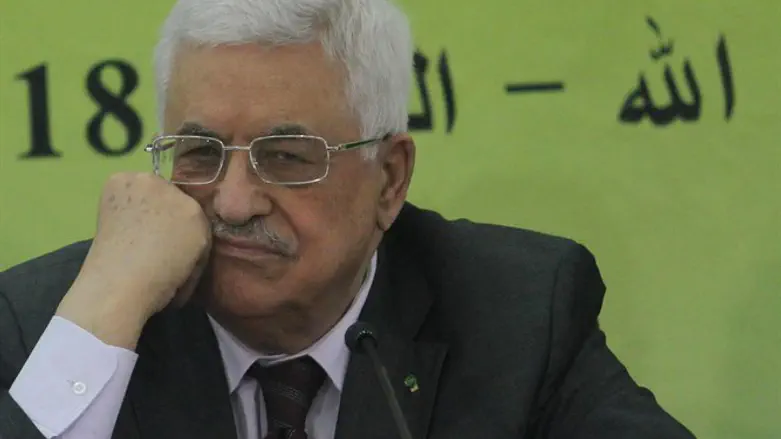 Mahmoud Abbas
Flash 90
Ever since the Oslo Accords were signed in 1993, the accepted mantra has been that a Palestinian state must be established alongside Israel, between the Jordan River and the Mediterranian in order to solve the Israeli-Arab conflict.
However, a new survey conducted by the Tami Steinmetz Center for Peace Research at Tel Aviv University and the Palestinian Center for Policy and Research in Ramallah reveals that the degree of trust in the possibility of a solution - on both the Israeli and Arab sides - has deteriorated to a new low.
As part of the poll, respondents were asked their opinions of a theoretical peace plan that would be signed between Israel and the Palestinian Authority (PA).
The plan includes the establishment of a demilitarized Palestinian state, an Israeli withdrawal to pre-June 1967 lines with equal land swaps, family reunification in Israel of 100,000 Palestinian refugees, western Jerusalem as the capital of Israel and eastern Jerusalem as the capital of "Palestine" (dividing the Old City between the two sides).
After seeing the plan, 54 percent of Israeli Jews said they opposed it and 57 percent of Arabs opposed the initiative as well.
The researchers point out that only a minority of Israeli Jews and Palestinian Arabs (46% of each population) support the idea of two states as a blueprint for resolving the conflict.
Donald Trump's speech recognizing Jerusalem as the capital of the State of Israel occurred shortly before the survey was conducted and led to a 6 percent drop in support for the two-state solution among Palestinian Arabs, compared with a similar survey conducted in June 2017. The support and lack of support of Israeli Jews for the outline, however, remained almost unchanged.