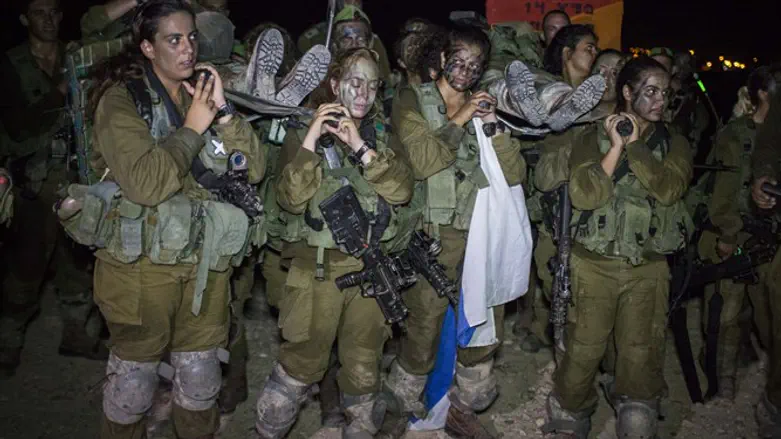 Karakal Battalion female fighters
Flash 90
1,806 signatories, more than 500 of them candidates for military service, signed a letter in support of Tzfat Rabbi Shmuel Eliahu who opposes the Joint Service Ordinance.
"Those who fought for Gefen's freedom of expression can't accept silencing rabbis," the letter's initiators wrote.
Defense Minister Avigdor Liberman this week instructedArmy Radio to cease playing the works of Israeli singer and songwriter Aviv Geffen, after Geffen published a poem on his Instagram account glorifying an Arab teen who slapped Israeli soldiers.
"The army is important to us ... We want to support the rabbi in the face of attacks by various media and politicians who are trying to decide what the rabbi is permitted to say and what he is forbidden to utter," the letter said.
"We would like to thank the rabbi and the other rabbis who are fighting for us to serve the people of Israel without harming the principles that are important to us."
Shilo Zohar, who signed the letter, said, "We want to enlist, each of us tries to get into as many elite units as possible. But the former Deputy Chief of Staff's comparison to the Holocaust period and the Chief of Staff's own statement against the Talmudic dictum 'If someone comes to kill you, preempt him and kill him first' saps our energy to fight."
At the Holocaust Memorial last year, the previous Deputy Chief of Staff declared that the IDF must keep close watch on its operations to prevent acting like the Nazis. The CoS, on another occasion, said that the IDF does not operate according to the Talmud's advice to preempt those who wish to kill you. Both declarations resulted in fierce criticism from the public.
Rabbi Shmuel Eliyahu
Flash 90
"I don't want to follow someone indecisive into battle, to run after someone who doesn't support his soldiers but rather rents an attorney to sell them down the river," said David Lixenberg, another signatory.
At the same time, support of rabbis from all walks of life is expanding, including Sephardic Chief Rabbi Yitzchak Yosef and Rabbi Aryeh Stern, rabbi of Jerusalem; Rabbi Dov Lior, retired Rabbi of the City of Hevron; Rabbi David Fendel, Head of the Hesder Yeshiva in Sderot; and Rabbi David Turgeman, Head of the Hesder Yeshiva In Dimona. "The support shows this is not a personal opinion of Rabbi Eliyahu, but a much broader and deeper issue. The development must be reconsidered."
Rabbi Meir Mazuz, head of Yeshivat Kisseh Rachamim, currently undergoing medical treatment, and who last night joined in support of the campaign, said: "Rabbi Eliyahu's words do not need reinforcement; they are words of truth. We mustn't remain silent about things that destroy the IDF and the nation."