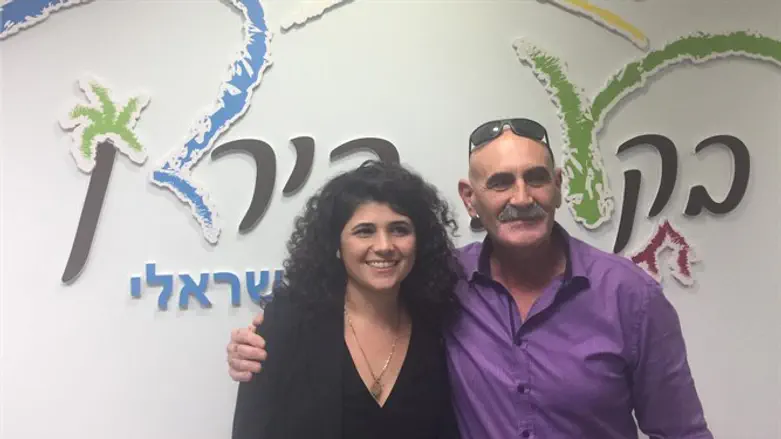 MK Haskel and David Elhiani
MK Haskel's spokesperson
MK Sharren Haskel (Likud) on Tuesday toured the Jordan Valley with the head of the Jordan Valley Regional Council, David Elhiani.
During the tour, Haskel announced she was promoting a new bill to apply Israeli sovereignty in the communities in the Jordan Valley and northern Dead Sea. The proposal will soon be submitted to the Ministerial Committee for Legislation.
"The Jordan Valley is a strategic, security asset of the State of Israel and there is a national and political consensus about it. Even in the most right-wing and left-wing agreement, the Jordan Valley is included as an integral part of our country," she said.
"The residents of the Jordan Valley are a security buffer on Israel's border and they risk their lives, yet there is complete inequality between them and the rest of the residents of the country. The residents here are considered second-class citizens and have obligations, but no rights. This is an absurdity that must be corrected immediately, and the sooner the better," continued Haskel.
Said Elhiani, "I was pleased to host MK Sharren Haskel and hear from her that she is about to advance a law to apply Israeli sovereignty in the Jordan Valley. I thank her for the initiative and, knowing her and her determination, I am sure that she will succeed."
There have been calls on Israel to withdraw from the Jordan Valley as part of a future agreement with the Palestinian Authority (PA). Israeli experts have warned that the area is strategically critical and that allowing the IDF to withdraw from the region and letting the PA take control would be a serious security threat to Israel.
Last month, a new strategic plan for the development of communities in the Jordan Valley was announced. The plan would see the absorption of 10,000 new residents within a decade.
The Jordan Valley is currently home to some 7,000 Israelis in the Jordan Valley Regional Council and the Maaleh Efraim Local Council.

As part of the plan, three new communities will be established and new neighborhoods will be added to existing ones; in addition, existing infrastructures will be developed, with an emphasis on improving public infrastructure.