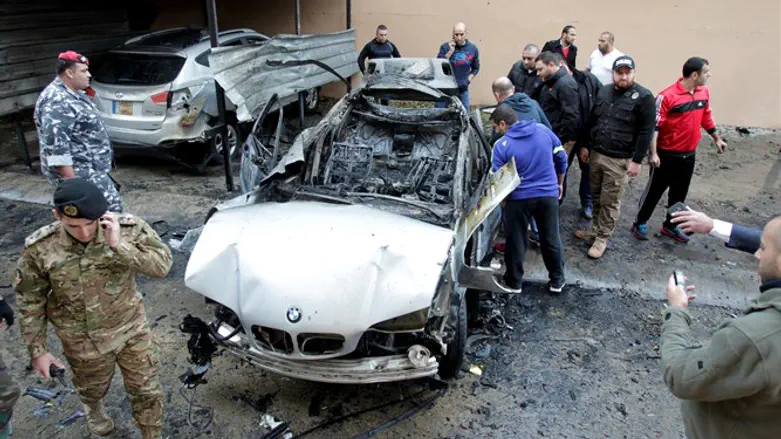 Exploded car in Sidon
Reuters
Lebanese media today claimed that the investigation into the attempted assassination of senior Hamas figure Muhammad Abu Hamza Hamdan a-week-and-a-half ago has proven that the Mossad is behind the attack, reports Maariv. According to the Al-Miyadin channel, the Mossad deployed a squad of three operatives - two men and a woman - for the operation in Lebanon. In addition, a bodyguard, according to the report, was involved in the incident and is now under arrest.
Hamdan, brother of senior Hamas official Osama Hamdan, was injured by a car explosion in the al-Bustan area in Sidon, south Lebanon, about noon a week-and-a-half ago. According to Lebanese sources, his condition is stable. However, a medical source in the city said "we had to amputate the activist's leg."
According to reports circulating in Lebanese media outlets, a bomb was attached to his car. A pall of black smoke rose above the city after his BMW caught fire following the explosion. It was also rumored that Israeli aircraft were circling the air at the time. However, senior Hamas official Ayman Shana'a curiously claimed that "Muhammad's foot injury was slight, and the car exploded before he arrived."
According to reports on Lebanese news websites, the engine of Hamdan's vehicle was completely incinerated and a number of other cars were also damaged, while Lebanese Al-Miyadin reported that an Israeli drone was seen circling over Sidon during the explosion. After the incident, defense sources blamed Israel and claimed that it was behind the attempted assassination.
The Lebanese media reported that "the target is Muhammad Omar Hamdan, a Hamas activist and teacher of special education." The Al-Miyadin network reported that several Mossad cells had recently been uncovered, including in Sidon.
The mayor of Sidon, Mohammed al-Saudi, said the car bomb exploded in Al-Suthban in Sidon. In a conversation with Radio Voice of Lebanon, he said that the booby-trapped vehicle exploded as soon as the terrorist opened the door.
Osama Hamdan, the brother of Muhammad (Abu Hamza), is one of the organization's senior members. He was born in 1965 in Gaza City and has served as the organization's representative in Lebanon since 1988. Hamdan was a representative of the movement in Iran from 1993-1998, and before that he lived with his family for several years in Kuwait.
It is possible that during this period he became acquainted with a group of Palestinian students, Muslim Brotherhood supporters, headed by Khaled Mash'al, who operated in the country in the 1980s and 1990s. Following the Gulf War he left Kuwait and settled in Sudan and later in Lebanon.