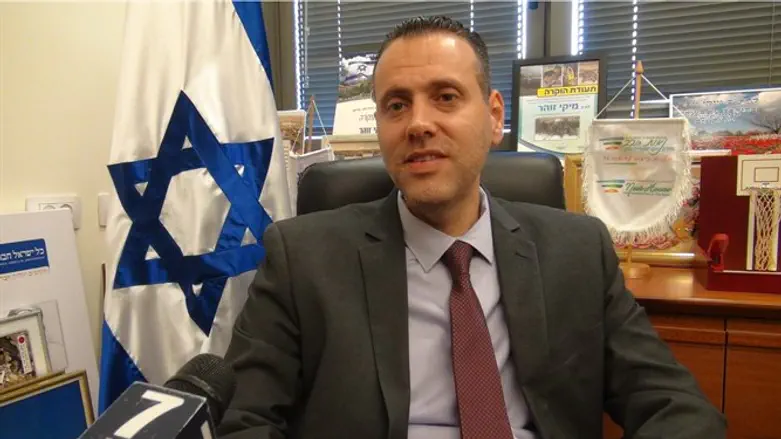 MK Zohar
Hezki Baruch
Arab MKs slammed incoming Knesset House Committee Chairman MK Miki Zohar (Likud) over comments suggesting that Arab lawmakers would not be suited to lead the Israeli government.
Speaking with Arutz Sheva Monday, Zohar doubled-down on his comments, but added that he meant only that Israel would cease to be a Jewish state if the premier were not Jewish.
"[Joint List MK] Ahmed Tibi said I was appointed chairman of the House Committee, yet I'm not prepared for Arabs to run the country. I insist that this state, the State of Israel, be run only by Jews. Arabs are invited to live here quietly without engaging in terror."
"When I say 'run the State,' I mean the premiership," Zohar explained. "If Ahmed Tibi would be the prime minister, this wouldn't be the State of Israel."
Zohar added that he will not let the opposition to dominate the committee. "I'm not afraid of the opposition activity recently, I won't lend a hand to populist moves."
MK Zohar also attacked the Arab MKs boycott of US Vice President Mike Pence's speech. "I think it's very serious. They don't feel part of the State and bring about divisions within Israeli society between Jews and Arabs, but that's their choice. We'll continue to thrive despite their anger and hatred."
Over the next few days, Zohar says he will prepare a comprehensive agenda for his committee.
"The trend will be clear, to preserve the State of Israel and its democracy, with clear principles that I have always advocated, the Land of Israel, the Torah of Israel, and the nation of Israel."
MK Zohar believes that the current coalition will likely last until the end of its term, in November 2019.
"In my opinion, the coalition is stable and no one wants to go to elections, though in politics there are surprises and you have to be constantly alert and bridge the gaps. The new coalition chairman, MK Dudi Amsalem (Likud), knows the job and I'll help him maintain the coalition's stability until the end of its days."
תיעוד: הפרובוקציה של הח"כים הערבים