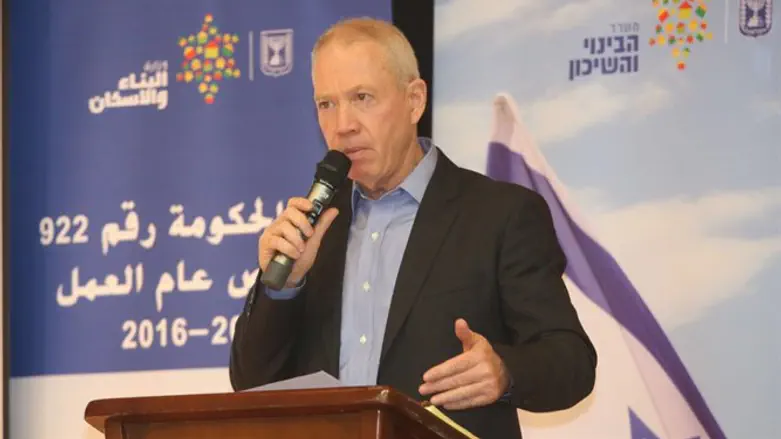 Yoav Galant
Sasson Tiram
Housing Minister Yoav Galant (Kulanu) slammed members of the predominantly Arab Joint List party on Monday over their decision to boycott Vice President Mike Pence's address to the Knesset.
Speaking at a conference on the Construction and Housing Ministry's accomplishments during 2016-2017, Galant emphasized how "vital it is that the Arab population of Israel has rights and obligations equal to those of every other citizen."
"When Joint Arab List Knesset members boycott the welcome given to the Vice President of the United States, they interfere with our efforts to aid and advance the Arab sector in Israel."
"The Joint Arab List's behavior is motivated by their own political interests, and comes at the expense of the Arab citizens of Israel."
Earlier, Joint Arab List Chairman MK Jamal Zahalka spoke dismissively about US Vice President Mike Pence's visit to Israel.
"We in the Joint List have decided to boycott Pence," Zahalka said. "He is an unwanted guest in this region, a persona non grata. Pence came here to pour oil on the fire of the conflict, and to support the stronger side. He came to strengthen Israeli Prime Minister Binyamin Netanyahu's efforts to come to a one-sided conclusion."
"Pence and US President Donald Trump are snubbing international law and UN resolutions, and they deserve to be scorned, not applauded. It is inconceivable that messianic evangelists will decide the fate of Israel and its residents, according to their own insane visions.
"Pence is trying to woo a group of voters in the US, at the expense of what really matters - not only to the Palestinians, but to the Jews as well."
Prior to the Vice President's address, Joint List MKs raised placards and attempted to protest the visit from within the Knesset chamber. Security guards escorted the protesting MKs out of the chamber shortly after the demonstration began.