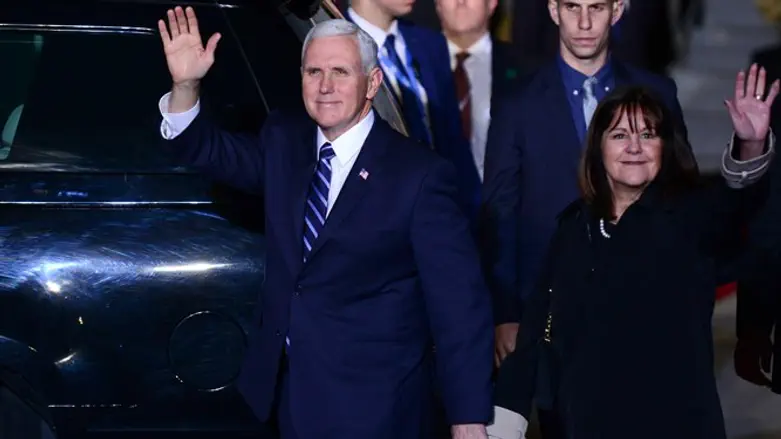 US Vice President Mike Pence and his wife Karen
Tomer Nauberg, Flash 90
Chairman of Republicans Overseas Israel and Vice President of Republicans Overseas, Inc. Marc Zell spoke to Arutz Sheva about US Vice President Mike Pence's visit to Israel, emphasizing the importance of the visit.
"I was just interviewed by Army Radio, and they detailed a lot of slander against the Vice President, and really laughed at him," Zell said. "I don't want to get into it, it's all lies, but the tactlessness, the impertinence, and the lack of ability to say 'thank you' and welcome Israel's greatest friend's Vice President - it's just amazing."
"I really have to praise Arutz Sheva - you know how to welcome guests such as Vice President Mike Pence and his wife Karen."
According to Zell, the Arab Knesset members who threatened to boycott Pence's Knesset speech are embarrassing themselves.
"The fact that fourteen Arab Knesset members are boycotting this visit is a huge embarrassment," he said. "They are simply continuing the path of Palestinian Authority Chairman Mahmoud Abbas. They don't know how to act politely, so they're shooting themselves in the foot."
"The Vice President is willing to meet with the Palestinians, but they boycotted him. He will not suck up to them and he will not travel to Ramallah."
Zell also noted that three years ago, when Pence was governor of Indiana, he refused to travel to Ramallah.
"Even then, he understood who America's friends are and who is against America, who lies, and who doesn't lie," he said. "The night of the elections, Pence invited me to dinner. It was an amazing evening. I hosted him three years ago here in Jerusalem. For the first time in my life, I saw an impressive person. He also impressed the entire crowd who came to hear him. He's a really wise, humble, and professional person."
"I don't remember that any previous Vice President gave a speech at the Knesset. It's an historical event.
"One of the purposes of his visit here, and to Egypt and Jordan, is to strengthen the ties between the coalition against the Iranian threat. We all need to concentrate on the threat from Tehran."
Listen to the Hebrew interview here: