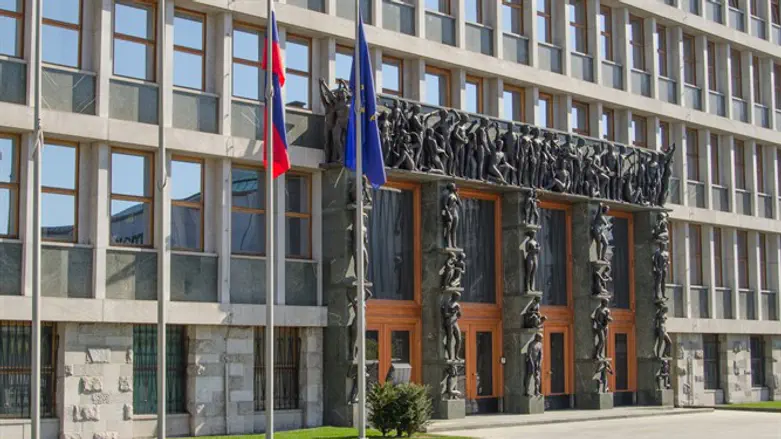 Slovenian parliament
iStock
Slovenia is expected to recognize the "state of Palestine" in the coming weeks in response to U.S. President Donald Trump's recognition of Jerusalem as Israel's capital, senior officials in Jerusalem told Israel's Channel 10 News on Sunday.
According to those officials, three other European countries are considering the same move.
About a week ago, according to the report, the Slovenian government convened to promote the recognition of "Palestine" as a state, and the Slovenian government passed the issue to parliament, which is the body authorized to recognize other countries. On January 31, the Foreign Affairs Committee of the Slovenian Parliament is expected to hold a first vote on the subject, and a vote in the plenum is scheduled for some time in February.
The Foreign Ministry is trying to recruit members of parliament in Slovenia to oppose the move, but it is believed that the decision will pass and Slovenia will recognize "Palestine" as a state. Senior officials in Jerusalem told Channel 10 News that in addition to Slovenia, at least three other countries in the EU are considering the same step: Luxembourg, Ireland and Belgium.
The foreign minister of Luxembourg several days ago called for a group of European countries to recognize "Palestine" and is trying to persuade France to take the lead, according to the officials. The Irish foreign minister, who recently visited Israel, also said that Ireland is seriously considering recognizing "Palestine" as a state.
Senior officials in Jerusalem have indicated that the Belgian government is also seriously considering such a move. "Our position is that recognition of a Palestinian state, not within the framework of an agreement, harms the chances of reaching peace and even distances it," a senior official said.
The Palestinian Authority (PA) has been stepping up its efforts to bypass negotiations with Israel by achieving recognition of a Palestinian state.
On Sunday, the PA official in charge of foreign affairs confirmed that PA chairman Mahmoud Abbas will meet with the EU's foreign ministers on Monday in Brussels and will ask them to recognize a Palestinian state on the pre-1967 territories with eastern Jerusalem as its capital.
Two weeks ago, Rami Hamdallah, the head of the PA government in Ramallah, urged Norway to recognize "Palestine" during a meeting with its foreign minister.
Several European countries have in recent years recognized the state of "Palestine", but these were symbolic moves that have little, if any, actual diplomatic effect.