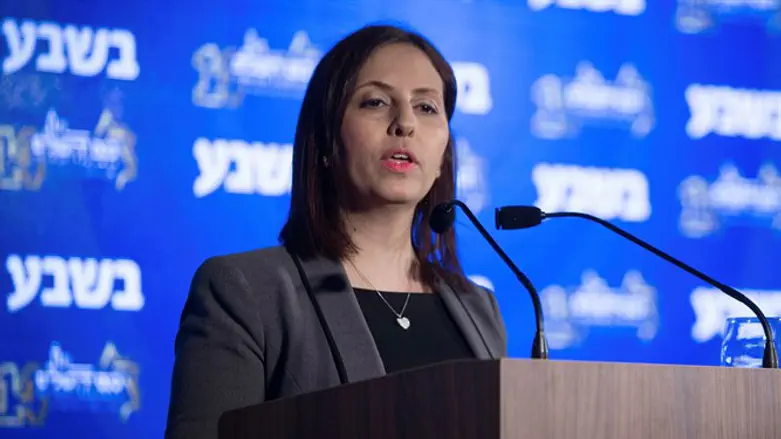 Gila Gamliel
Adi Geffen/TPS
Social Equality Minister Gila Gamliel (Likud) welcomed the arrival of U.S. Vice President Mike Pence on an official visit to Israel.
Gamliel also blasted Palestinian Authority (PA) chairman Mahmoud Abbas who refused to meet Pence in protest over President Donald Trump's recognition of Jerusalem as Israel's capital.
"I welcome the arrival of Vice President Pence, a true friend of Israel and a guest of honor in our country. The time has come to realize: The Abu Mazen era is over, it is history. The Palestinian refusal [to negotiate] is an obstacle to peace and regional stability," Gamliel said.
"Abu Mazen's masquerade has ended. He failed to correctly read the regional and international reality. His obsessive speeches against Israel and Trump have one meaning: Abu Mazen is not a partner for dialogue or an agreement," she continued.
Gamliel also criticized the Joint List, whose members said they would boycott Pence's speech to the Knesset.
"This is a disgraceful decision that does not respect the Knesset. The MKs from the Joint List continue to be confused and forget once again that they were elected to the Knesset in order to bring the civil voice of the Israeli Arabs and not the extremist voices emanating from the Muqata," she said.
Earlier on Sunday, Prime Minister Binyamin Netanyahu slammed Abbas for refusing to agree to negotiations led by the U.S. in the wake of Trump's recognition of Jerusalem.
"This evening we welcome U.S. Vice President Mike Pence, a great friend of Israel. He has landed here and we will welcome him with warmth and pride. I will discuss two issues with him: Peace and security," said Netanyahu.
"On peace, I have a message for Abu Mazen: There is no alternative for American leadership in the diplomatic process. Whoever is not ready to talk with the Americans about peace – does not want peace," he added.