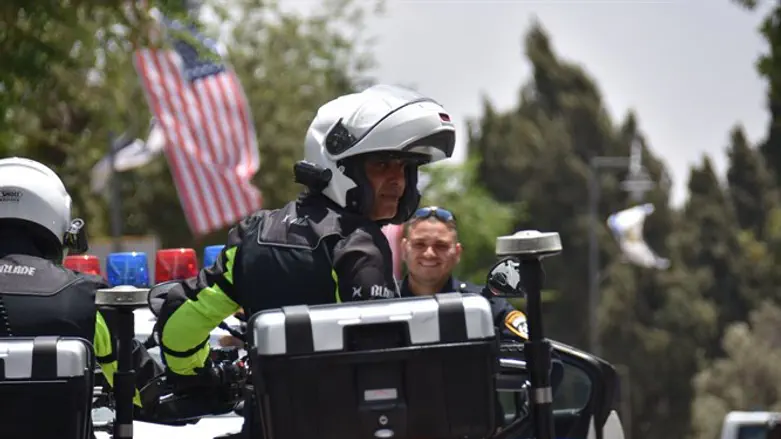 Preparing for US VP Mike Pence's visit
Israel Police
Israel Police is currently completing preparations for US Vice President Mike Pence's expected visit to Israel.
Pence will arrive in Israel on Sunday night and leave on Tuesday evening.
Meanwhile, police are practicing a new security model, to secure Pence and his party during what has been named, "Blue Shield 2."
Thousands of Israel Police officers, Border Police officers, and volunteers will be stationed on Sunday afternoon to ensure public order, provide security, and direct traffic during Pence's 3-day visit.
"Blue Shield 2" is a complex national operation which will include Israel Police officers from several areas of the country, mostly the areas around Ben Gurion Airport, Jerusalem, and the main roads leading to Jerusalem.
In addition, various control centers and hotlines will run in order to ensure effective control and command throughout the operation.
Preparations for Pence's visit began a few weeks ago, with police planning security, public order, and traffic together with the other responsible parties. As part of Israel Police's preparation for the operation, security and escort exercises were held, practicing how the security details would accompany Pence to and from each site he visits.
Traffic disruptions and road closures are expected on various thoroughfares in Jerusalem, and there may be short focused road closures on the roads leading to and from the city.
Israel Police will provide information on which roads are expected to be closed before and during Pence's visit, as well as information on where traffic changes will occur. These updates will be provided to the public via media outlets as well as via Israel Police's Facebook and Twitter feeds and the police website.
"We would like to emphasize to the media and the Israeli public that during the entire visit, aircraft, including drones, will be forbidden from flying in the airspace over Ben Gurion Airport and Jerusalem," a police statement said. "Israel Police will continue working to ensure the proper execution of 'Blue Shield 2,' while working to ensure public order and normal traffic, as well as limiting the disruption to the public's routine."
Watch the Hebrew video here: