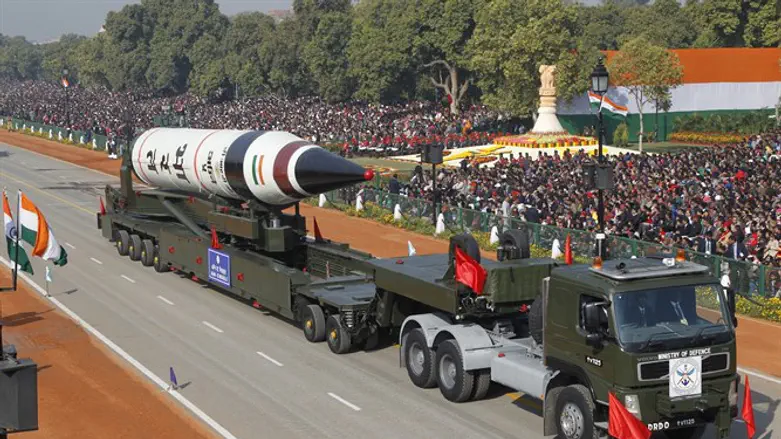 The Agni-5 missile displayed at a New Delhi parade in January 2013.
Reuters
India on Thursday successfully tested its surface-to-surface Agni-5 ballistic missile from a test range off the Odisha coast, the country's Defense Ministry reported.
Israeli Prime Minister Binyamin Netanyahu is currently visiting India, on a six-day historical visit aimed at cementing the countries' friendship and economic ties.
The Agni-5 has a strike range of over 5,000 kilometers (3106.86 miles). The current missile used a canister launcher mounted on a mobile platform and was fired from the Integrated Test Range's No. 4 launch pad.
Sources said the missile was in flight 19 minutes and covered 4,900 kilometers (3044.72 miles). Its path is directed by an on-board computer and the missile turns back towards earth with increased speed after reaching its peak trajectory.
"After four successful developmental trials, this was the first user associate test of Agni-5 missile," the sources said.
A Defense Research and Development Organization official said, "The high speed on board computer and fault tolerant software along with robust and reliable bus guided the missile flawlessly."
The Agni-5 is the most advanced missile in the Agni series and offers increased mobility and reliability. The first two Agni-5 test flights were performed in open configuration in April 2012, September 2013. A third test, in January 2015, used a more sophisticated launcher which requires relatively short preparation time.
The Federation of American Scientists believes India to possess 120-130 nuclear warheads.
India, like Pakistan, North Korea, and Iran, has not signed the treaty on non-proliferation of nuclear weapons.