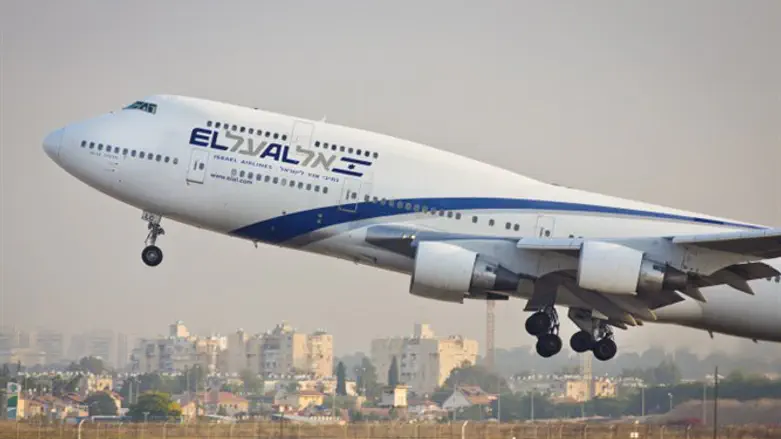 El Al flight
Flash 90
During his official state visit to India, Prime Minister Netanyahu dropped tantalizing hints to the effect that Saudi Arabia would soon allow Israel-bound planes to fly over its territory.
Netanyahu told a group of Indian businessmen that "One of the things we are trying to do is promote a simple thing - an efficient and direct route between Israel and India, the kind we have between Israel and Silicon Valley, the kind we now have between Israel and China."
As Saudi Arabia officially does not recognize Israel, all planes flying from Israel to India and returning, are banned from flying through Saudi Arabian airspace, adding hours to each flight from Asia and ratcheting up fuel costs.
Netanyahu's remarks came on the heels of a recent report saying that a new Tel Aviv-New Delhi air route would be launched in the near future which would include flying over Saudi Arabia. Netanyahu had raised the issue with Prime Minister Modi on Monday as part of discussions relating to Israel's new aviation agreements with India. "Upgrading of direct aviation routes will encourage the movement of investors, tourists, students, and entrepreneurs," the Israeli PM said.
Israel has long viewed the possibility of flying over Saudi Arabia as a distant dream. In 2009, then-President Barack Obama was curtly rebuffed when he lobbied Saudi Arabia to allow Israeli passenger planes to cross its airspace in exchange for a settlement freeze.
In May, the Wall Street Journal reported that the Gulf States offered Israel an agreement according to which they will permit Israeli planes to fly over their airspace and will allow direct telephone communication to be established. In return, Israel would freeze all settlement activity in Judea and Samaria and ease restrictions on commerce with the Gaza strip.
Netanyahu has been touring India with Prime Minister Modi throughout the week as ties between India and Israel consolidate.
If approved, the new policy of allowing Israeli planes into Saudi Arabia airspace could be seen as a result of Israel's growing ties with Riyadh. Israel has long been rumored to be holding covert talks with Saudi Arabia and Israeli Ambassador to the United Nations Danny Danon said in December that Israel enjoys warm relations with many Arab countries despite the fact that these countries officially refuse to recognize Israel's existence.
"They still do not vote with us, but I can say that we have a relationship with them," Danon told Ynet. "We are talking about a dozen Islamic countries, including the Arab countries that understand the potential of relations with Israel. The State of Israel is not the regional problem, it is the regional solution, and strengthening this cooperation is part of it."