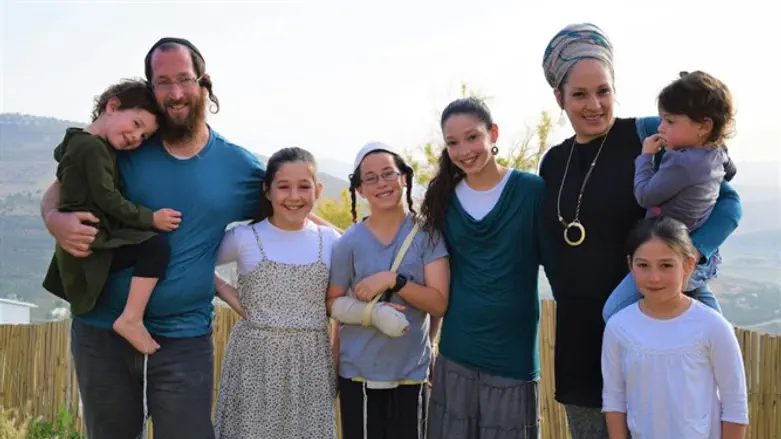 Elcana Picard and family
Avraham Shapira
Yitzhar resident Elkana Picard received a threatening phone call from a Shin Bet (Israel Security Agency) agent who called himself "Avichai" and threatened to remove Picard from his home.
Picard, married and a father of seven, quoted "Avichai" as saying, "I suggest you take yourself in hand and not go back to what there was six months ago - it won't be good, especially not for you.I hope my message is understood."
Picard serves as Yitzhar's youth coordinator, working with youth at risk. The mention of "six months ago" refers to when Picard was distanced from his home after hosting youth at risk.
Honenu CEO Shmuel Medad said, "This is insane. Everyone....knows that Shin Bet is too free with distancing orders and administrative detentions, and that they remove family men on the basis of their personal feelings. They don't base it on proofs or the court. It's lawlessness and corruption at their worst."
"Many judges have to deal with violations of administrative detentions, and they usually identify with the victims. 'I'm sorry' and 'I'm only qualified to discuss whether or not there was a violation,' are often said off record. It's amazing that not a 'single righteous man in Sodom (a Hebrew expression, ed.)' has said anything in public or on protocol in protest of this frightening and corrupt norm. This is exactly how they get around the law and the courts. It's just like communist Russia."
A few days ago, a resident of the Yishuv Hada'at town received a phone call from a Shabak agent who called himself "Haim" and threatened to "toss him out" of the area.
"Don't try me, you'll suffer from it, I'll toss you out of the area and you'll lose out....you're going to get it," the resident quoted "Haim" as saying.
Honenu attorney Adi Kedar said, "This is criminal and violent behavior, and it is unprecedented for a public servant to act this way to a civilian who has not committed a crime. A serious complaint will be filed and we will prosecute to the fullest extent of the law."