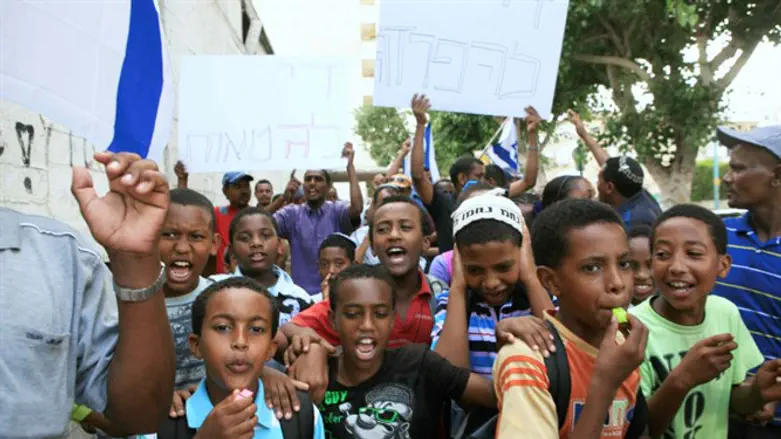 Ethiopian students (illustration)
Flash 90
Poor health care may be a main factor limiting minority students' ability and motivation to learn, CMRubinWorld reported.
According to Dr. Charles (Chuck) Basch, author of "Healthier Students Are Better Learners," health issues, which disproportionately plague low-income urban minority youth, play a major role in limiting students' motivation and ability to learn.
It is estimated by the World Health Organization that 800 million people are spending at least 10 percent of their household budget on out-of-pocket health care expenses, and nearly 100 million people are being pushed into extreme poverty each year due to health care costs. The United Nations Sustainable Development Goal 3 aims to achieve Universal Healthcare for all people by 2030.
According to Kara Hanson, Professor of Health System Economics at the London School of Hygiene & Tropical Medicine, there are two main challenges for healthcare in low and middle-income countries. The first challenge is the "growing burden of non-communicable diseases."
Hansen says that "more than half of the disease burden in lower-middle income countries is due to non-communicable diseases, and even in the lowest income countries, non-communicable diseases are responsible for one-third of the disease burden."
"There are so many challenges confronting humanity that we need to be deploying capital differently," says one blogger, Bonnie Chiu, who emphasizes that "impact investing is the key to funding universal access to healthcare."
A Columbia University study found that in 2008, the average doctor in the US earned $186,582, while in Canada, a country with higher healthcare satisfaction, the average doctor earns $125,000.
"Broadening taxation and reducing spending would be ideal ways to balance the books," says another blogger, Jacob Navarette. "A truly modern health system needs to focus on enabling choice within itself," notes James Kernochan.