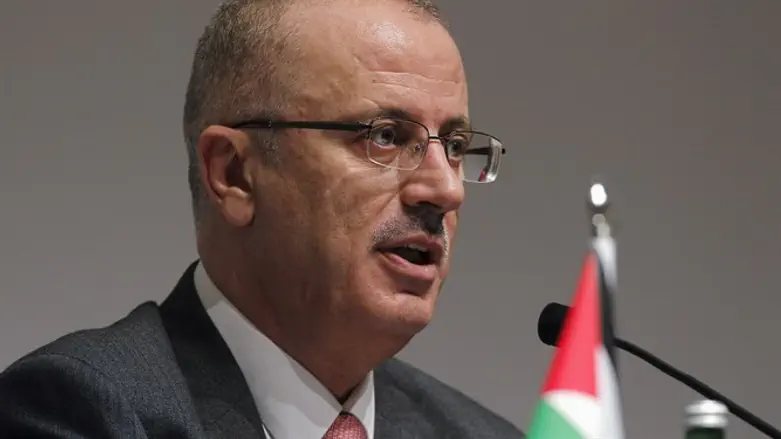 Rami Hamdallah
Reuters
The Palestinian Authority (PA) is taking aim at Israeli school textbooks, claiming they encourage murder of Palestinian Arabs.
In its weekly meeting on Tuesday, the PA government headed by Rami Hamdallah expressed its full support for the decisions of the Palestine Liberation Organization (PLO) Central Council from earlier this week.
The PLO Central Council had authorized the organization's Executive Committee to suspend its recognition of Israel (though the PLO never actually recognized Israel despite pledging to do so), to stop the security coordination with Israel and to stop the economic dependence on the Jewish state.
The PA government expressed willingness to help implement the decisions in order to realize the "legitimate national rights, first and foremost the right of return of our people to their homeland."
The government also called on the international community to provide international protection for the "Palestinian people", to formulate an international mechanism for settling the conflict in order to reach a two-state solution and to recognize the state of "Palestine" within the pre-1967 borders with eastern Jerusalem as its capital.
In the field of education, the PA government expressed opposition to a U.S. senator's initiative to examine PA textbooks on the grounds that they contain anti-Semitic content and incite to terrorism and violence.
The government's announcement called on international institutions, especially UNESCO, to thwart what it called Israel's attempts to Judaize the Palestinian curriculum, particularly in schools in Jerusalem and in UNRWA-run schools.
At the same time, the American administration was called upon to examine the Israeli curriculum, which the PA government claimed was "designed in a way that serves the Zionist-colonialist enterprise and on the basis of the falsifying of the historical narrative and on hatred and incitement to oppress and kill our people."
It is, however, PA textbooks which educate towards hatred and murder of Jews, as has been proven time and time again.
Meanwhile, studies have shown that Israeli textbooks promote peace and tolerance.