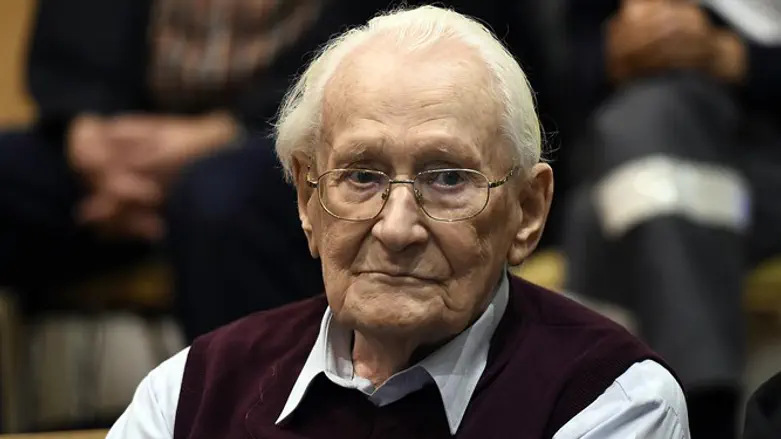 Oskar Groening
Reuters
Oskar Groening, a former Auschwitz death camp guard who is known as the "Bookkeeper of Auschwitz", has launched a bid for clemency in a final bid to avoid serving his sentence as an accessory to murder, German authorities said Monday, according to The Associated Press.
Attorneys for 96-year-old Groening filed the appeal with prosecutors in Lueneburg, where he was convicted in 2015 as an accessory to the murder of 300,000 Jews.
Groening was sentenced to four years in prison, but has not yet spent any time behind bars because of the appeals process.
In November, a court ruled that he was fit to serve his four-year prison sentence. Weeks later, his defense team appealed to the constitutional court, claiming that jailing Groening at such an advanced age flouted his basic rights.
In late December, Germany's constitutional court ruled that Groening must go to jail over his role in mass murders committed at Auschwitz.
Lueneburg prosecutors' spokeswoman Wiebke Bethke said her office would likely make a decision on the clemency request this week, in consultation with the panel of judges who convicted Groening.
She said she was not permitted to give details of Groening's argument for why he should not serve his sentence.
While the court in December rejected his attorneys' argument that imprisoning him would violate his constitutional right to life and physical safety, it also noted that German law allows for prison sentences to be interrupted if a prisoner's health deteriorates significantly.
Hannover prosecutors, who have been handling Groening's case, told The Associated Press that Groening hasn't yet been summoned to report to prison following the final court ruling, but that consideration of the clemency appeal shouldn't delay that process.
During his trial, Groening acknowledged "moral guilt" but said it was up to the court to rule on his legal culpability.
He had previously been cleared by German authorities after lengthy criminal probes dating back to the 1970s.
He came to attention in 2005 after giving interviews about his work in the camp in an attempt to persuade Holocaust deniers that the genocide had taken place.
In recent years, Germany has begun a crackdown on Nazi war criminals. The crackdown began following the 2011 Munich trial of John Demjanjuk, a Nazi war criminal charged of assisting in the murder of 28,060 people at the Sobibor death camp and sentenced to five years. He died in 2012.
Among a handful of convictions in Germany since the Demjanjuk trial is that of Reinhold Hanning, found guilty of complicity in the mass murders at Auschwitz.
Hanning died at the age of 95 last year, before he could serve his jail term.