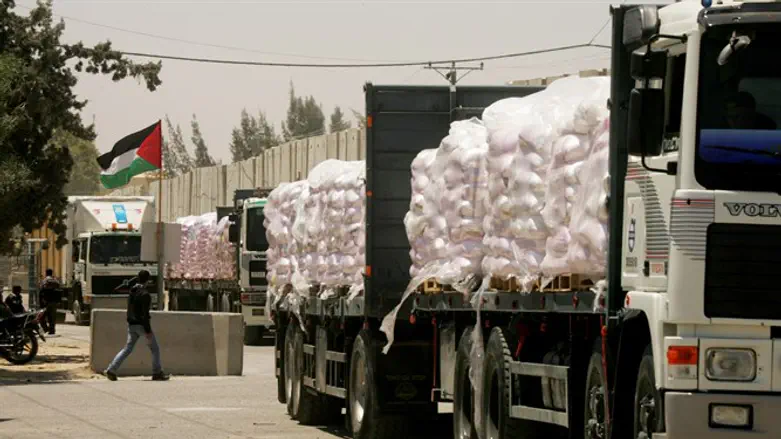 Kerem Shalom Crossing
Abed Rahim Khatib/ Flash90
The Kerem Shalom crossing will re-open Tuesday, now that IDF Southern Command has completed the process of destroying the terror tunnel which was recently discovered under the crossing.
Upon completion of the process, and after assessing the security situation, it was decided to reopen the terminal, allowing shipments across the Israel-Gaza frontier.
An IDF spokesman said that "the Hamas terrorist organization is responsible for what is happening in the Gaza Strip and is responsible for the welfare of its citizens. Any attempt to harm Israel's citizens or its sovereignty will be met with force and determination.
"The IDF will continue to act to thwart terrorist organizations' efforts under the ground, wherever it is needed," the IDF spokesman said.
Prime Minister Binyamin Netanyahu referred earlier to the ongoing threat from Gaza and especially to the terror tunnels. "We're not approaching the point when fear of an escalation or confrontation would affect our handling of the tunnels," Netanyahu said, adding that he supports easing restrictions on Gaza's population.
Commander of the Southern Brigade Col. Kobi Heller said today that digging a terror tunnel under the only goods terminal is an example of Hamas dealing in terror rather than rehabilitating the Gaza Strip. "The aim is to maintain open and regular passage of goods for the benefit of Gaza Strip residents, and at the same time we will continue to act to put an end to terror tunnels."