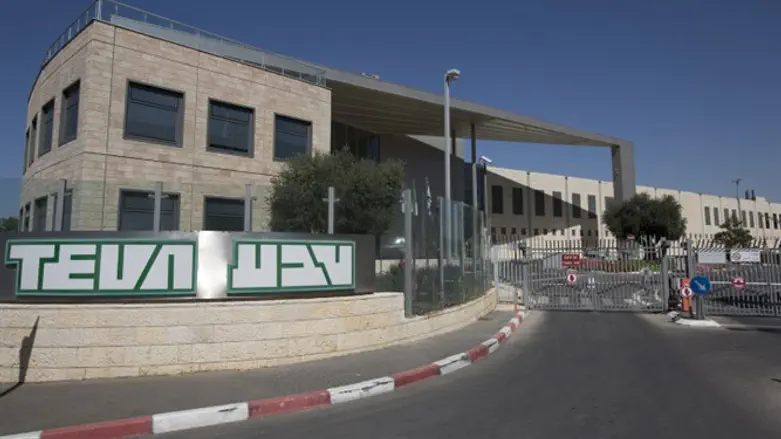 Teva offices
Flash90
Israel's Justice Ministry said Monday it had fined pharmaceutical giant Teva $22 million for bribing foreign officials in a settlement that spares the company a potential criminal trial.
The deal signed on Sunday comes a month after Teva announced plans to cut 14,000 jobs globally, triggering strikes in Israel and pressure from the government and the powerful Histadrut labor union.
The fine was over Teva paying bribes to foreign officials to win business in Russia, Ukraine and Mexico, the ministry said.
The Israeli generic drug firm had in December 2016 paid $519 million in the United States for similar charges in a separate settlement, known as a deferred prosecution agreement.
Israeli authorities had launched their own investigation "to examine the ramifications of the affair in Israel," the ministry said. Rather than pressing charges in court, the Justice Ministry decided to fine
Teva, which admitted its role in the affair, 75 million shekels ($22 million,18 million euros).
The settlement took into consideration the US fine, Teva's cooperation and organizational changes already made to prevent future such occurrences, it said.
Teva's current fiscal situation and global layoffs were factors in the Israeli decision to waive a trial and impose a relatively light fine.
"As a global firm, a criminal conviction now could cause it significant damages," the Justice Ministry said.
Teva said that since learning of the original US investigation, the company "has implemented a robust compliance and enforcement program with very high standards designed to protect it and its subsidiaries from future violations.".
"All employees that had been willfully involved in the wrongdoing are no longer employed by the company," it said in a statement.
Teva had bribed a Russian government official to boost sales of Copaxone, its multiple sclerosis drug, resulting in more than $200 million in profits for Teva and about $65 million for the Russian official between 2010 and 2012, US authorities said.
Teva also admitted to paying bribes between 2001 and 2011 to a senior government official in Ukraine, who agreed to promote Teva drugs.
In Mexico, Teva's subsidiary paid bribes to doctors employed by the Mexican government since at least 2005, US officials said.
Teva has been saddled with debt after its $40 billion acquisition of the generics arm of rival Allergan last year.
The acquisition has been accompanied by low prices for generics, particularly in the United States, a major market.
Teva expects to save $3 billion by the end of 2019 with a two-year restructuring plan announced in December that will include 14,000 layoffs, 1,750 of which in Israel.
Histadrut trade union launched a series of strikes and Prime Minister Binyamin Netanyahu met with Teva's Danish boss Kare Schultz in an effort to soften the blow to local employees.