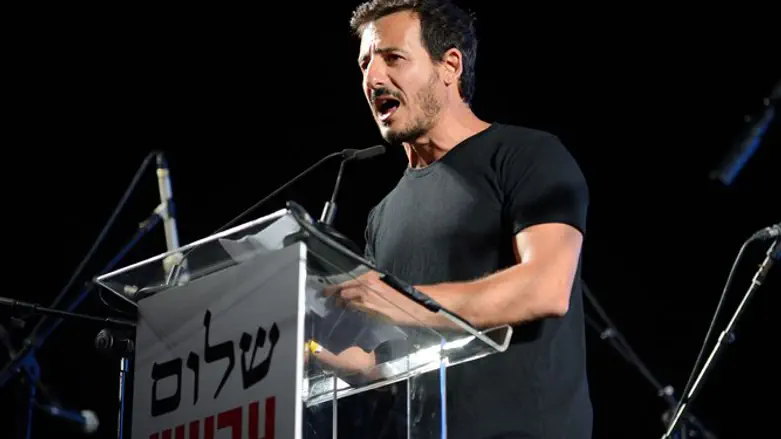 Avi Buskila
Photo by Gili Yaari/Flash90
The head of the left-wing organization Peace Now announced his resignation on Sunday, in what observers say is the first step of his campaign to head the Meretz party.
Avi Buskila had replaced longtime Peace Now Chairman Yariv Oppenheimer in 2016, and vowed to do everything possible to fight the growth of Jewish communities in Judea and Samaria. In his short tenure heading Peace Now, Buskila distinguished himself for his extreme diatribes against Judea and Samaria residents, who he accused of racism.
"How many Sephardic people are in the Jewish Home? There are hardly any, because it's all about elitist Ashkenazi and Anglo-Saxon settlers," alleged Buskila. "The nation is supposed to serve them, and it's serving them even now. And within this elite, there are the Hevron settlers, who are the elite of the Ashkenazi elite, and receive more money than any other settlers."
Buskila also called Agricultural Minister Uri Ariel (Jewish Home) "the epitome of evil" who he said "took the Torah into his own hands and translated it as he saw fit, with racism, homophobia, and using a lot of money".
Buskila is expected to announce his candidacy for the leftist Meretz party on Sunday evening, which recently announced a new open primaries system. The party had previously selected its Knesset list through a complicated two-tiered system, in which party members would elect representatives who would decide the Knesset list amongst themselves. This system had come under attack in recent years by party members, who pointed to its non-transparent internal elections as the reason for Meretz's poor electoral showing.
Last Thursday, party leader Zehava Galon came to an agreement with MK Ilan Gilon, who stipulated that anyone joining Meretz up to 30 days before its March 22 primaries can vote for its representatives.
Once a major force in Israeli politics with a dozen seats in the Knesset and power ministerial positions including the Education Ministry and Communications Ministry portfolios, since the 1990s Meretz has declined to just five seats and has not been a member of any government since 2001.
Meretz, which was formed in 1992, was the political union of the Ratz: Movement for Civil Rights and Peace party - a small, radical-left faction led by Shulamit Aloni and Yossi Sarid – with the secularist Shinui party and Mapam, one of the two Labor factions in the early years of the state before its merger with Mapai. Shinui broke away in 1997, reestablishing itself as an independent party.