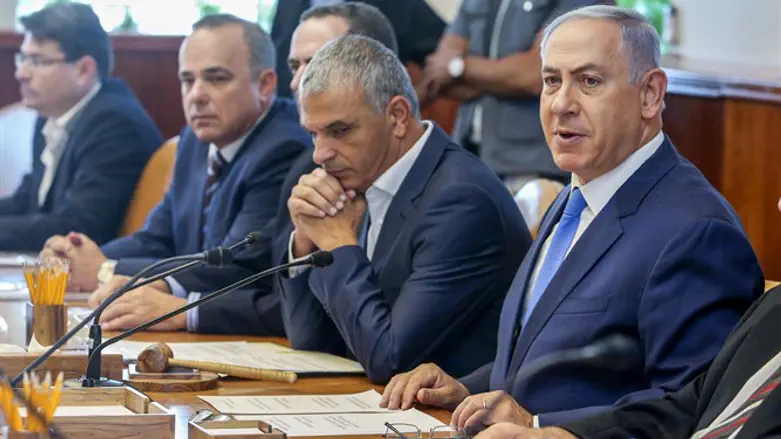 Binyamin Netanyahu at weekly Cabinet meeting (file)
Marc Israel Sellem/Flash90
The Israeli government unanimously approved the 2019 state budget, which includes 397.3 billion shekels ($117 billion) in spending.
Coalition members gathered for the vote Friday morning on the budget plan laid out by Finance Minister Moshe Kahlon (Kulanu).
While a number of ministers protested spending cuts included in the budget, the cabinet passed Kahlon's proposed budget unanimously.
Likud cabinet members, including Culture Minister Miri Regev, Science Minister Ofir Akunis, and Internal Security Minister Gilad Erdan slammed cuts to specific programs in their respective ministries, while Interior Minister Aryeh Deri (Shas) protested the 11 million shekel ($3.23 million) cut to stipends for full-time yeshiva students. The Minister of Religious Affairs, David Azoulay, a fellow member of the Shas party, has been hospitalized and was unable to take part in the meeting.
Despite some spending cutbacks on programs, overall, the Ministry of Culture and Sports received a significant funding increase - with 1 billion shekels ($290 million) compared to less than 725 million ($213 million) in 2017.
The plan which includes income tax cuts for middle class wage earners, boosts spending for education and disability benefits. For the first time in Israel's history, the government will spend more on education than defense.
The budget includes a 20 billion shekel ($5.9 billion) net increase in expenditures, and raises the state deficit to 2.9% - up from last year's 1.97% and 2.15% in 2016.
According to the new budget plan, the state will spend 60 billion shekels ($17.6 billion) on education in 2019, compared to 63 billion ($18.5 billion) for defense.
Healthcare spending will reach 38 billion shekels ($11.2 billion) under the Kahlon budget, compared to 18 billion ($5.3 billion) in welfare spending.
New immigrants to Israel will face a cut in benefits starting in 2019, when the Ministry of Aliyah and Absorption will cease to provide absorption basket benefits – including a monthly stipend payment.
The cut will mostly affect immigrant families, and higher-income immigrants, with benefits eliminated for all new immigrants in households with total assets greater than 500,000 shekels ($147,000).
The budget also includes steep cuts to the World Zionist Organization's settlement division, which will be reduced by nearly a third, from 36 million shekels ($10.6 million) to 26 million ($7.7 million).