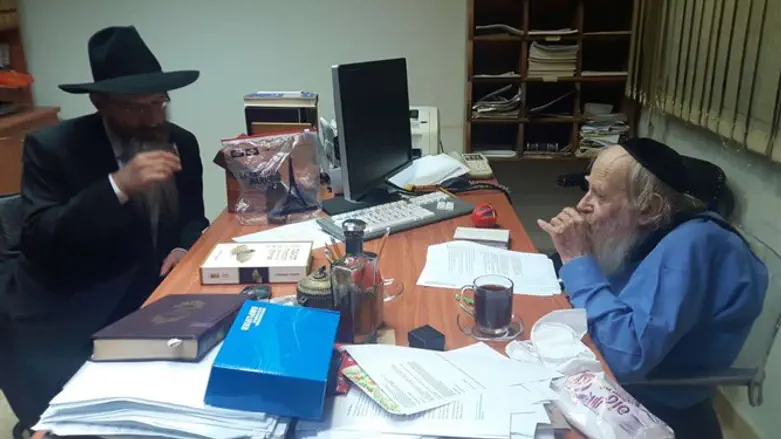 Rabbi Lazar and Rabbi Steinsaltz
Steinzaltz Center
The Chief Rabbi of Russia, Rabbi Berel Lazar, came this week to visit Rabbi Adin Even Yisrael Steinsaltz and see how the 80-year-old rabbi is doing.
Rabbi Steinsaltz is considered one of the great rabbinical commentators and scholars of this generation, and has written numerous world-renowned commentaries on the Bible, the Talmud, and many other religious Jewish texts.
Rabbi Steinsaltz suffered a stroke last year and returned to work in July, to the joy and relief of his students and colleagues.
Rabbi Lazar is considered to be a close associate of Russian President Vladimir Putin and one of Russia's most of influential personalities. During the visit, Rabbi Lazar and Rabbi Steinsaltz drank L'Chaim (a traditional Jewish toast) and Rabbi Lazar praised Rabbi Steinsaltz for his commentary on the Tanya while wishing him good health.
Rabbi Steinsaltz, on his part, urged Rabbi Lazar to "continue to move on and move up and continue with the great work in Russia."
The meeting was also attended by the CEO of Beit Avi Chai, David Rosenson, and the Director of the Steinsaltz Center, Manny Even Yisrael.
Photo: Steinzaltz Center