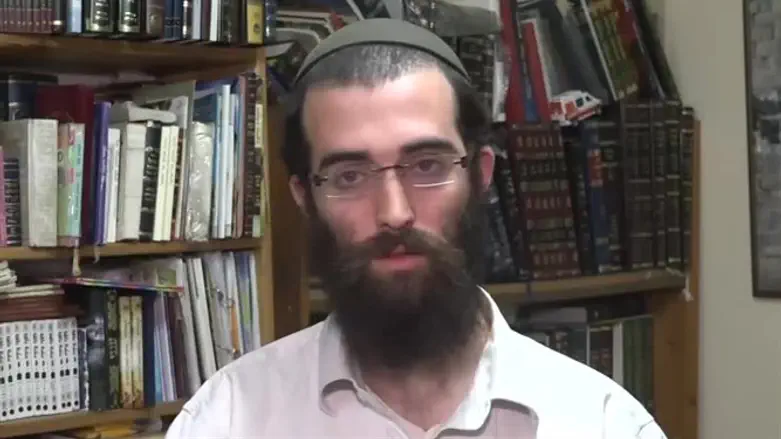 Hanoch Vasserman, Rabbi Shevach's friend
Channel 20
Hanoch Vasserman, friend and former study partner of Rabbi Raziel Shevach, who was murdered in a shooting attack near the Samaria community of Havat Gilad on Tuesday night, spoke with Channel 20 about his friend, whom he described as a "Torah giant of the generation" who was involved in all areas of Torah both theoretical and practical.
"I was Raziel's study partner for 3 or 4 years. I merited to spend hundreds of hours with him, in the yeshiva, on hikes, on visits to the graves of tzadikim. He was a special person whom it is hard to describe in words.
"The Jewish people lost a Torah giant - not just of the coming generation, but of this one. I don't think there was an area of Torah which he did not cover - not only theoretically, but practically.
"He studied the laws of ritual circumcision, and went on to become a mohel. He circumcised, I believe, close to 300 infants - he stopped updating me after the first 100.
"We studied laws of ritual slaughter, [and] he performed ritual slaughter [...] He would slaughter a chicken at my house [as part of the kapparot ritual] every eve of Yom Kippur, he slaughtered a lamb to teach the yeshiva the laws of ritual slaughter.
"He studied to be a mediator...he studied everything. We studied the laws of mourning, and he told me jokingly that if he continues to practice everything he learns, he will now have to bury someone [...] A short while later, in fact, with a heavy heart, he buried someone who did not have much family. He purified the body, as halakha mandates, wrapped it in a tallit, everything."
Vasserman said that Rabbi Shevach "had an amazing sense of humor, and in every situation he would lighten the atmosphere. He had a vitality that it's hard to describe."
"I hope that, as we will have to lift the spirits of the bereaved family, we will manage to lift our own," Vasserman said.
חנוך וסרמן חברו של הרב שבח הי"ד -דמות מיוחדת שקשה לי לתאר במילים