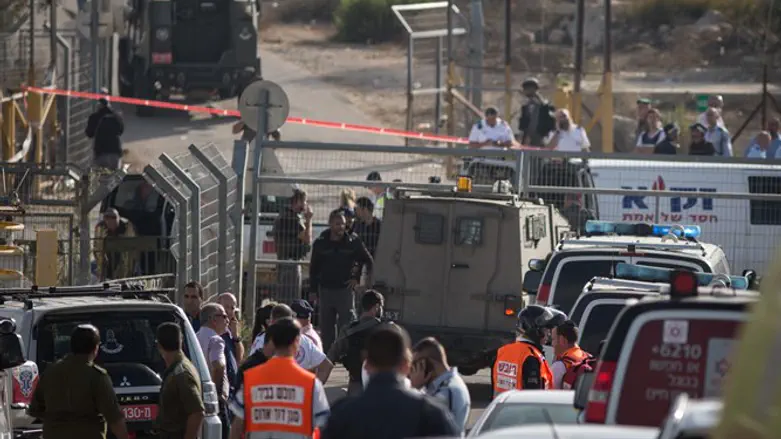 Scene of Har Adar attack
Hadas Porush/Flash 90
Amit Shteinhart, who was seriously wounded four months ago during the terror attack near the community of Har Adar, decided to move this week from his home in the community to the center of the country.
The attack occurred when a PA Arab employed as a cleaner in the community approached the checkpoint at the back gate to Har Adar carrying a concealed pistol. When security officers ordered him to halt for inspection, he drew the weapon and opened fire, killing three and wounding a fourth.
Israel Hayom reported this morning that Shteinhart, 33, suffers from trauma and psychological difficulties, in part because he sees the checkpoint every time he leaves his home. In addition, the report said, he is afraid of revenge attacks because he admitted in the media that he had shot and killed the terrorist.
"Every time I went to physical therapy or out to get a breath of fresh air, I saw the checkpoint in front of me and I went back to those moments. I was not even able to bring myself to go there to reconstruct the attack for the Border Police investigation. The situation is only getting worse. "
Shteinhart added that "It's not just the nightmares or the death of my friends. Since the checkpoint has been reopened I am afraid that someone in the terrorist's family or one of his friends will decide to settle accounts with me. I have responsibility for the lives of my wife Naama and our one-and-a-half year-old daughter, Laila, "He said.
Shteinhart said he did not want to leave Har Adar, but had no choice. "The decision to leave was not easy, I saw Har Adar as home. On the other hand, I can never recover here from the trauma I experienced."