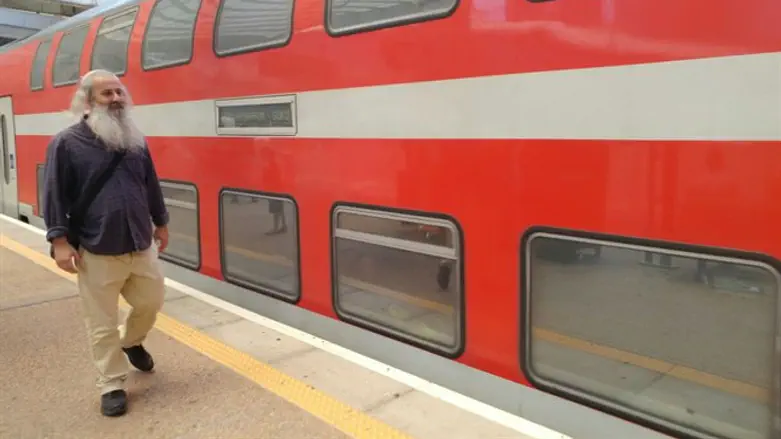 Train station
Yoni Kempinski
Transportation Minister Yisrael Katz (Likud) ordered that the express train running from Jerusalem to Tel Aviv be ready for use in the next three months.
The new train will travel at a speed of 160 kilometers per hour (99.4 miles per hour), and will begin running on March 30 - exactly as then-CEO of Israeli Railways Boaz Tzafrir predicted in 2014, and just in time for Pesach (Passover). During the first three months, Rav Kav holders will be able to use the line for free.
During the first stage, the train will run from Jerusalem's Central Bus Station to Tel Aviv's Hahagana Railway Station. There will be two trains per hour in each direction, and the duration of the trip is expected to be 28 minutes.
During the second stage, which will begin a few months later, the train will run three times an hour in each direction during rush hour. In the future, trains may run up to six times an hour during rush hour.
Katz said the Jerusalem-Tel Aviv train line is a national priority at the Transportation Ministry.
"When I entered the office, I ordered the Transportation Ministry and Israel Railways workers to work immediately to advance the express train between Jerusalem and Tel Aviv, after the project had been stalled for four years," Katz said.
"I made a promise, and I will fulfill it. This coming Pesach, we will allow all of Israel to come en masse to Jerusalem, via the express train from Tel Aviv. We are connecting and strengthening our capital city of Jerusalem, and we are connecting to Jerusalem's history."
Next week, Katz will carry out a test run of the train's electrical engine, between the Sha'ar Hagai Intersection and Modi'in.
The new Jerusalem train station is the largest transportation center in Israel, and includes two stops for the city's light rail train, a taxi stop, and a parking lot with over 1,200 parking spaces. The underground building is over 80 meters (262.46 feet) underground, and includes tunnels, shafts, four platforms 300 meters (984.252 feet) long each, and can serve as a nuclear fallout shelter in case of emergency.
Three express elevators, each with a capacity of 35 people, will connect the underground station to street level in a matter of seconds. The elevators and some of the escalators are working and ready for use. The station's upper portion is made of glass, and includes 40 steel poles 13 meters (42.65 feet) high, and a skylight 21 meters (68.89 feet) in diameter.
The station itself is 70,000 meters squared (753,473.73 feet squared) and includes platforms, service areas, ventilation shafts, and its upper portion includes an entrance hall, commuter bathrooms, ticketing, and system rooms. station security was planned according to the highest international standards, and provides for the accommodation of approximately 4,000 commuters at once.
Running on a double track 56 kilometers (34.79 miles) long, the express station will pass through Ben Gurion Airprt, Modi'in, and Sha'ar Hagai on its way to Jerusalem. It is expected to make four million trips in its first year, and cost a total of 7 billion NIS ($2,032,940,000).
In 2017, an illegal Arab outpost threatened to block the train line's construction and endanger commuters. It is not clear if the court and Israeli government have demolished the dangerous neighborhood, or if it still presents a threat.